With the movie The Guardians of the Galaxy hitting theaters in the Netherlands on August 14th, this summer there is no way around the little feisty Rocket Raccoon and his buddy Groot, so you might as well pick up this collection of stories to get yourself acquainted with their back stories and adventures. You will be in for some fun and loony adventures.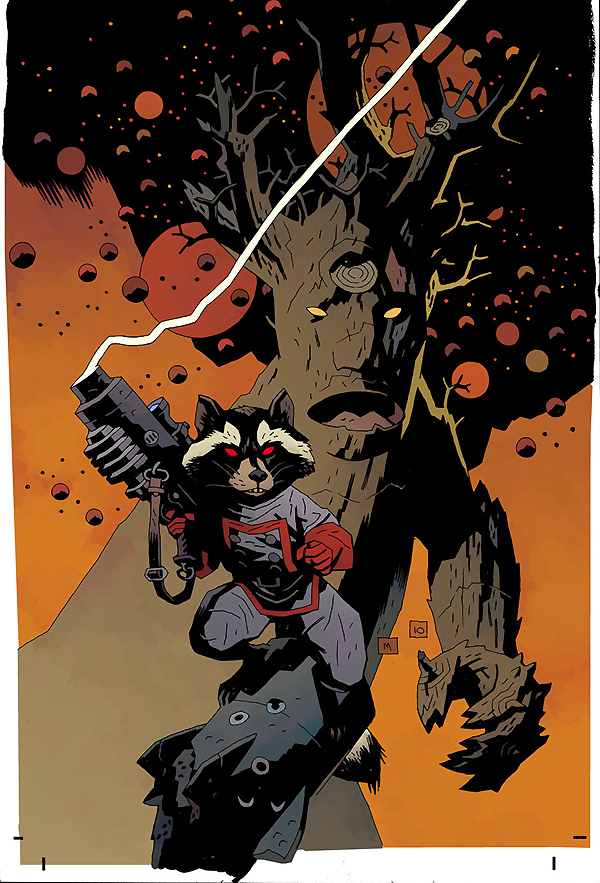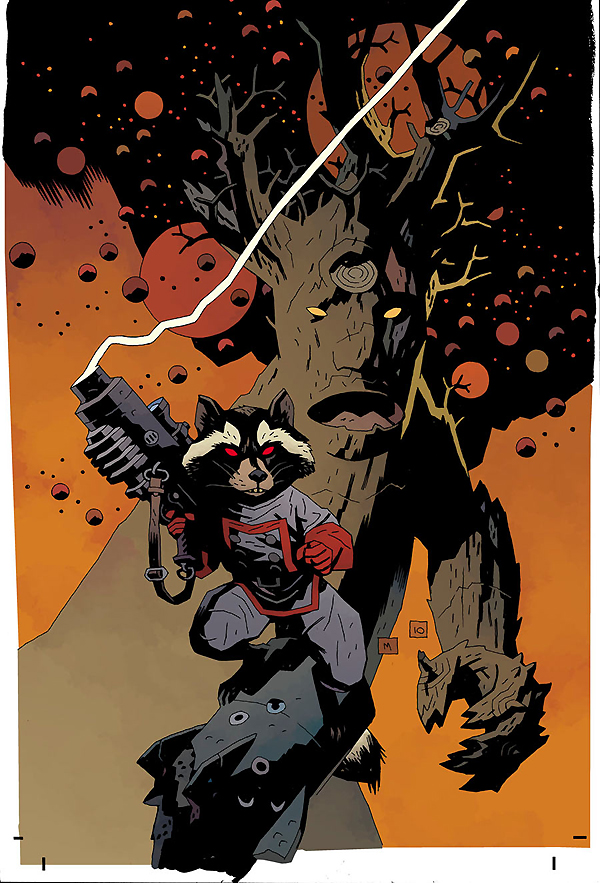 After reading the Rocket Raccoon and Groot trade paperback, I can't help wondering what writer Bill Mantlo and artist Keith Giffen were smoking when they conjured up the character. No doubt they were listening to The White Album by The Beatles, because the first real story in which Raccoon plays an important part, which happens to be an adventure with the Incredible Hulk, is full of references to the song 'Rocky Raccoon'.
Rocket Raccoon is an intelligent, anthropomorphic raccoon, an expert marksman, master tactician and pilot. He's also an inhabitant of a planet called Halfworld. Half of this planet consists of an insane asylum called Cuckoo's Nest, which looks as cosy as the garden of Eden, while the other half is an industrial wasteland where robots are producing toys to keep the insane entertained and happy. It's Rocket's task to protect the inmates from killer clowns and the Black Bunny Brigade, and guard the loonies' 'Gideon's Bible', which contains everything one needs to know about the history of the planet – if only one would be able to decipher its text.
If this sounds a bit corny or loony, you're quite right. Strangely enough I never had trouble believing stories about a guy bitten by a radioactive spider, nor about a Bat-Man guarding a major metropolis. However, it took me quite some pages to get into the groove of the nonsensical world of talking animals, with the likes of Rocket Raccoon and his side-kick Wal Rus, who has mechanical tusks that can blow your head off.
However, things start to get quite serious in the four-issue limited series by writer Bill Mantlo which is also a part of this trade paperback, when the two major toy providers, a mole and a big snake, start a trade war with one another. When Rocket's girlfriend, a lovely beaver named Lylla, gets kidnapped in the process, it is up to him and his team to free her. They'll change the fate of Halfworld in the process.
The fact that a young Mike Mignola, who later became famous for creating a certain character called Hellboy, drew these four issues of Rocket Raccoon made the story that more interesting to me, especially since you can clearly see Mignola still trying to find his typical expressionistic style. (The cover of the book is, however, drawn in that lovely Mignola style we all love so much; see picture above right.)
Oh yeah, even though Groot is not as important a character as the title of the book might make him appear, let me tell you a bit about him. Groot (also known as the Monarch of Planet X) was created by Jack Kirby, Stan Lee, and Dick Ayers. The character first appeared in Tales to Astonish #13 (November 1960), which is also contained within this trade. He's an extraterrestrial, sentient, tree-like creature that originally appeared as an invader who intended to capture humans for experimentation. Later on, he was reconfigured to be a heroic noble being, and crossed paths with Raccoon.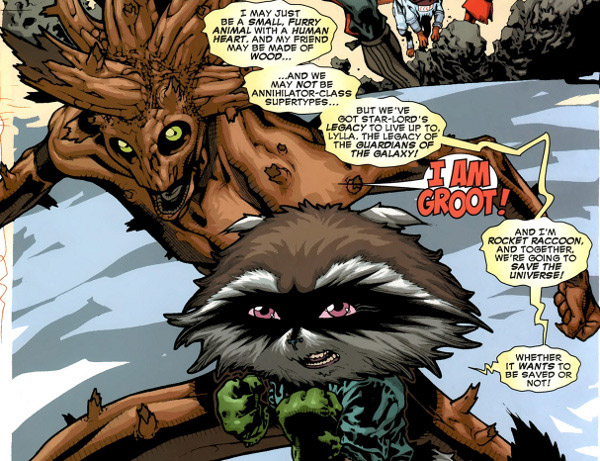 Nowadays Rocket Raccoon and Groot are members of the Guardians of the Galaxy, and will star in the summer blockbuster by the same name. In the four part story 'Annihilators' Raccoon and Groot take centre stage. Personally I enjoyed this adventure written by Dan Abnett and Andy Lanning and drawn by Timothy Green II, the best. The story starts with the Guardians of the Galaxy disbanded, and Rocket working as a mailboy at the offices of Timely Inc. (Note that Marvel Comics used to be called Timely Comics.) He doesn't remember a lot about his past, but when Rocket is attacked by a killer clown, it is time to visit his old buddy Groot once more and travel back to Halfworld to discover why Rocket had to leave his place of birth in the first place. It is a fun read, event though this adventure sort of rewrites the events of the four-part story of Mantlo and Mignola that came before.
I loved certain running gags in 'Annihilators'. For instance, to the untrained ear Groot's vocabulary seems quite limited, for all he seems to yell is 'I am Groot!', but that's just because you and I don't speak tree. Rocket does, however, and luckily for us his responses to Groot make clear what his wooden ally is talking about during the comic.

This review was written for and published on the blog of the American Book Center.