Het stripplaatje van de week kwam ik tegen op de Facebookpagina van stripliefhebber Veerle Devos: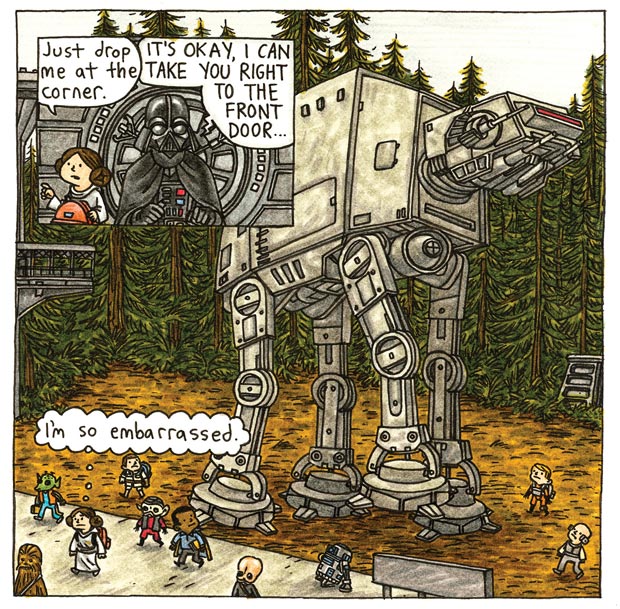 De pagina is afkomstig uit het grappige album Vader's Little Princess waarin pa Darth Vader het moeilijk heeft met het opvoeden van tiener Leia. Het boekje is een vervolg op Darth Vader and Son, ook van Jeffrey Brown. In de herfst komt het derde deel uit, genaamd Goodnight Darth Vader.
Vader als liefhebbende vader? Het is in ieder geval een frisse en grappige kijk op het Star Wars-universum. En laten we eerlijk zijn: na de laatste trilogie van George Lucas kunnen we wel een lachje gebruiken.
Brown:
'I think part of what was so fun about this idea is like, as a parent, there's things you just kind of have to put up with. They can be really frustrating. So the idea of this dark master, lord of the Sith, having all that power, and in the end, here's this 4-year-old who can be, 'Eh, no Dad. I don't want to do it.' And he's powerless against it. He's gotta maintain that presence of power in the universe, but when it's his own son, he has to rein it in a little bit. That tension is what was fun to play with.' Lees hier de rest van het interview.