In Superior Spider-Man #2 MJ and Peter, uh Octopus-Peter are dating. But something is way off here, and it is not Pete's archaic choice of words.
The good thing about Superior Spider-Man is the fact that Humberto Ramos is not drawing it. Ryan Stegman still draws too cartoony for my taste, but at least he knows human anatomy better than Ramos ever did. Man, do I miss the days when great artists like John Romita JR still drew Spidey's adventure. But this is a different Marvel at least when Spidey is concerned. It hasn't been right for a long time if you ask me.
I still don't get over the fact how poorly written Mary Jane is. It's like somewhere she got a lobotomy, but Marvel somehow forgot to mention this. Check out this scene for instance: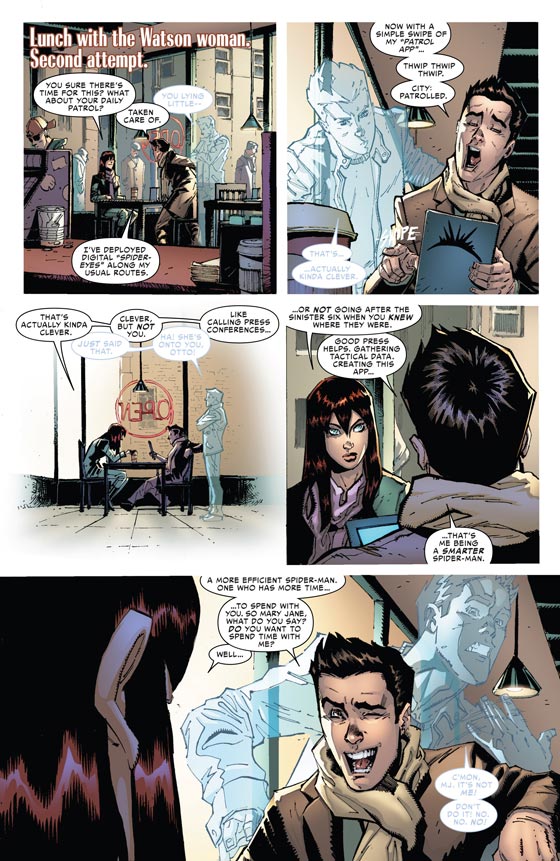 Mary Jane and Peter are soul mates. They've known each other for the longest time. They've been married – in some version of Spidey history at least –  and went through hell and back, so, one would guess she knows Peter through and through. Why doesn't see notice that Pete's not himself… Why doesn't she question Pete's behavior more? He hasn't been acting like himself for the last couple of issues.
Because it's not convenient for Dan Slott, that's why. He bends MJ's characterisation to make her fit in his master plan, which in my opinion makes bad writing. Or maybe another brain-body switch occurred and some dumb blond is inside her head or something…
All right, at the end of issue #2 she seems to suspect something, but still: very late, very thin. Especially considering the rude ways Octopus has been treating her in the last couple of issues. MJ would never stand for that. Not the way MJ was written in the past by Stan Lee, Tom Defalco, Roger Stern and Michael Straczynski that is. That was an independant woman who doesn't take lip from anyone.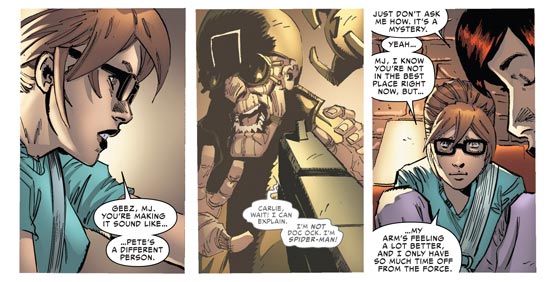 Personally: I can't wait till Pete's back in his own skin and a new creative team is working on the title. Till then, I am not spending a single buck on Spidey comics.