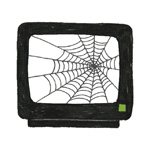 Ik ben dol op papieren boeken. Eerder schreef ik al over wat strips voor mij zo boeiend maakt, op het blog van Edwin Mijnsbergen vond ik onderstaande video waarin de lofzang op het boek gezongen wordt. En terecht, want boeken zijn heerlijke dingen. Kijk maar:
De video is gemaakt door een medwerker van webwinkel AbeBooks als respons op de Faceboekpagina 'I hate reading' waar inderdaad haast niets te lezen valt:
Here at AbeBooks – we love books. We have a passion for books and this video shows it. Created by Lindsay Thompson, an account manager in our Victoria office, this video illustrates all the wonderful things about books. This is our official response to the 'I Hate Reading' Facebook page, if you love reading as much as we do comment or like this video. Long live the book.
Ik vind deze webvideo een mooi voorbeeld van protesteren.