Op Donderdag 9 en Vrijdag 10 juni wordt tijdens de Stripdagen Haarlem het toneelstuk The King and Me gespeeld in de grote zaal van de Toneelschuur. Dat is de eerste keer dat dit door Ger Apeldoorn geschreven stuk in Nederland te zien is.
Het Engelstalige stuk werd een aantal jaar geleden door Apeldoorn geschreven in opdracht van de Britse Stripdagen en daar met veel succes een aantal maal opgevoerd. Ook was er een openbare lezing dit jaar in het Kirby Museum in New York. Maar een opvoering in Nederland is er nooit geweest – tot nu toe.
Vaders van het Marvel Universum
Het toneelstuk zal comicliefhebbers interesseren, want het verhaal draait om Jack Kirby. Kirby wordt door velen beschouwd als een van de belangrijkste tekenaars uit de Amerikaanse comicindustrie. Samen met Stan Lee stond hij aan de wieg van het Marvel Universum. Ze creëerden the Fantastic Four, X-Men, the Avengers en de Hulk en vele andere personages. (Spider-Man werd bedacht door Lee en Steve Ditko, daar had Kirby nagenoeg niets mee te maken.) Kirby tekende van de Marvel-helden de eerste avonturen en zijn dynamische stijl werd ook als huisstijl van Marvel gezien. Nieuwe tekenaars werden gemotiveerd om goed naar Kirby's tekeningen te kijken. Hij had als bijnaam ook King of comics, vandaar de titel The King and Me.
In die tien jaar dat Kirby met Stan Lee werkte ontwierp hij iedere maand nieuwe helden en schurken, maar kreeg daar nooit echt de credits (of het geld) voor. In The King and Me vertellen Stan Lee en Joe Simon (Kirby's eerste partner, met wie hij onder andere Captain America bedacht in 1941) het levensverhaal van Kirby, terwijl ze uitvechten wie Kirby's beste partner was. De intellectuele Simon of the showman Lee. Jack Kirby vindt natuurlijk dat hij zelf die titel verdient.
Koor
'Het is een wervelende show voor iedere stripmaker en fan die wil ontdekken dat de personages achter de schermen net zo boeiend zijn als die ervoor,' zegt Apeldoorn. 'Het stuk duurt 75 minuten en wordt in het Engels gespeeld. Voor de tekst is gebruikt gemaakt van interviews met Kirby, Lee en Simon. De waargebeurde dialogen heb ik verzonnen. Tussen de scènes door worden fragmenten uit het werk van Jack Kirby gelezen door een 'koor' van striptekenaars en fans. Het is nog vroeg om alle namen bekend te maken, maar voorlopig heb ik de twee stand-up comedians Thijs van Domburg en Arie Koomen en stripmakers Erik Kriek en Eric Heuvel gestrikt. Andere namen worden in de loop van de volgende weken bekend gemaakt.'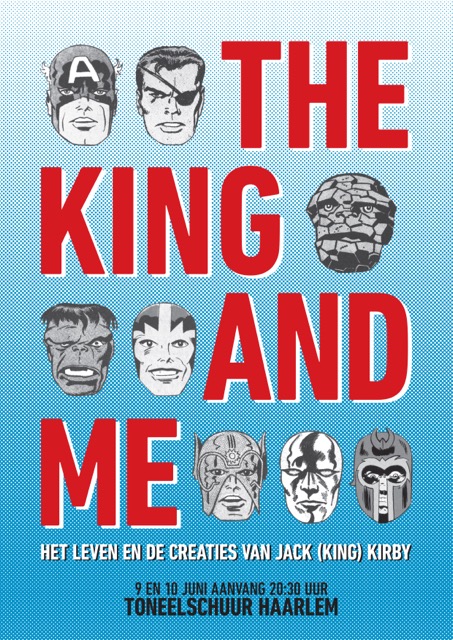 Apeldoorn gaat al wat jaartjes mee in de stripwereld. Hij is striphistoricus, televisieschrijver en was bij Juniorpress jarenlang de vertaler van vooral X-Men. Toen kende we hem  nog onder de pennaam Gé Apeldé. Vooral zijn redactionelen en gevatte reacties op ingezonden brieven staan me nog goed voor de geest.
Apeldoorn: 'In de eerste opvoering werd het koor samengesteld uit tekenaars van de beursvloer in Bristol. Eén daarvan was Dave Gibbons, die mij na afloop feliciteerde met een geslaagde voorstelling en erbij zei dat hij er veel van geleerd had, niet alleen over de carrière van Kirby, maar vooral ook zijn karakter en zijn verhouding tot de andere personages.'
Uitvoering: Theater Kwast
Toneelschuur
Lange Begijnestraat 9, Haarlem
Wanneer:
donderdag 9 juni & vrijdag 10 juni 2016
Aanvangstijd:
20.30
Kaarten:
normaal €16.50, vriend €14.50
CJP €12.50 via Toneelschuur
Tags: Arie Koomen, Captain America, Dave Gibbons, Eric Heuvel, Erik Kriek, Fantastic Four, Ger Apeldoorn, Hulk, Jack Kirby, Joe Simon, Marvel Comics, Stan Lee, Steve Ditko, Stripdagen Haarlem, Thijs van Domburg, Toneel, Toneelschuur