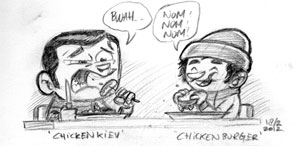 Een paar weken geleden verbleef ik samen met Paul in Edinburgh, haunted capital of the world. We waren daar om held Kevin Smith te bezoeken, maar ook om gewoon een paar dagen lekker de nerd uit te hangen. Aangezien Edinburgh vol ligt met kerkhoven en twee stripwinkels bezit, kwam dat wel goed.
Meer Edinburgh vind je hier.
De volgende aflevering van Daily Webhead staat gepland voor zondag 1 april en gaat waarschijnlijk Duivengebroed heten.