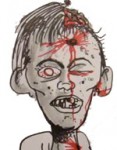 Jezelf als zombie laten portretteren, of als vampier of weerwolf. Het was allemaal mogelijk afgelopen zondag in de Fame in Amsterdam. Daar zaten tekenhelden Maarten Janssens en Menno Kooistra een paar uurtjes tussen de dvd's een ieder die dat wenste op papier van een metamorfose te voorzien.

Ik was erbij met mijn cybershotje en maakte de volgende video:
Daily Webhead: Horrorportretten from Mike's Webs on Vimeo.
Wil je nog meer horror zien? Check ook onderstaande korte video's die ik dit jaar maakte rondom Halloween.