Over stripliefde gesproken: de 51-jarige stripverzamelaar Bob Bretall, begon met comics verzamelen nadat hij Amazing Spider-Man #88 had gelezen. Inmiddels heeft hij 90.000 comics en een huis vol nevenartikelen.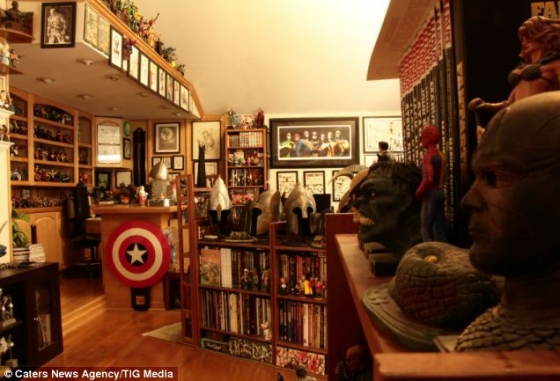 Spider-Man is nog steeds zijn favoriete held, ook al leest hij de huidge Spidey-comics niet:
"He was the guy that got me into collecting. I always thought he was a very relatable hero, he had problems of his own to overcome but he always did the right thing. I love the line by Stan Lee: 'With great power there must also come great responsibility'. Those early Marvel comics were not 'written down' to kids and had a lot of really advanced stuff in them. I'd often find myself going to the dictionary when reading comics as a kid. Spider-Man will always have that spot as my favourite even though I no longer read new Spider-Man comics coming out today."
Wat ik hartverwarmend vind aan deze video is dat Bretall zijn verzameling daadwerkelijk leest. Hij koopt ze niet om ingeseald in een kluis te stoppen in de hoop dat hij ze ooit met winst kan verkopen. Zijn strips zien er gelezen uit en hij leest ze nog dagelijks. Het is een levende collectie van iemand die echt van strips houdt. Dat sluit geheel aan bij mijn filosofie: strips zijn er om te lezen, niet om in te beleggen. Nu ben ik wel zuinig op mijn strips en ik houd ze graag goed, maar ik ben niet iemand die per se een eerste druk hoeft te hebben. De meeste Spidey-comics die ik heb zijn herdrukken bijvoorbeeld of trade paperbacks. Ik heb zelfs Batman #1 uit 1939 in de kast staan. Wel een herdruk natuurlijk, dus geen zeldzaam en waardevol exemplaar, maar dat neemt niet weg dat ik het eerste verhaal van de vleerman dus gewoon kan lezen. Het gaat mij om de verhalen. Een goed verhaal, mooi tekenwerk: dát maakt een strip in mijn ogen waardevol. Niet wat er op een veiling voor geboden wordt.
Zie het oorspronkelijke Daily Mail artikel voor foto's van Bretalls huis.
(Via Spider-Man Crawlspace)