In de rubriek stripliefde vertellen striplezers over hun favoriete strip.
Wat is je naam, je leeftijd en je wat doe je voor werk?
Ik ben Hedwig van Driel, 28, ik ben werkzaam als octrooigemachtigde in opleiding én redactielid van filmblad Schokkend Nieuws.
Welke strip(s) is/zijn je favoriet en lees je nu nog steeds?
Ik heb lang geaarzeld wat ik hier zou antwoorden. Ik vind bijvoorbeeld de strip Saga van Brian K. Vaughn, getekend door Fiona Staples, ontzettend sterk: een mengsel van genres dat niet zou moeten werken maar dat toch doet. Het had zelfs een keer een cover als een stuiverromannetje! Ook de strips die ik als kind heel veel las, vooral Asterix en Obelix, Lucky Luke en Kuifje (ik ben deels in Frankrijk opgegroeid), heb ik overwogen. Maar uiteindelijk won de strip die ik nu al meer dan de helft van mijn leven regelmatig lees: Calvin and Hobbes van Bill Waterson.
Waarom is dit je favoriete strip? Wat vind je er zo goed aan?
Ik denk dat het hem vooral zit in de combinatie van heel flauwe humor en toch best wel intellectuele grapjes, én natuurlijk in de tekenstijl. Als je de paginagrote strip ziet waarin Calvin en Hobbes dansen, daar zit zo´n levenslust in en zo´n beweeglijkheid. De langere verhalen, zoals de saga met het petje, weten iets heel herkenbaars te vangen en dan toch elke strip grappig te zijn. Of gewoon een van de vele verhalen die een ode brengen aan de verbeeldingskracht. Als Calvin de transmogrifier maakt, bijvoorbeeld. En vervolgens van dezelfde kartonnen doos een duplicator.
En dan toch nog even over Saga. Wat ik daaraan zo knap vind is dat het een ongetwijfeld volwassen strip is (en dat zeg ik niet alleen om er naakt in voorkomt), maar zonder te vervallen in het standaard cynisme en duisterheid van, pakweg, een Frank Miller. Het is een strip die onbeschaamd over hoop gaat, over liefde. Eigenlijk is Calvin and Hobbes een kinderstrip met verbazingwekkend volwassen thematiek en Saga een volwassen strip met een kinderhart – letterlijk ook, gezien de verteller.
Wanneer kwam je er voor het eerst mee in aanraking? En wat deed dat met je?
Ik kan me eigenlijk niet meer herinneren wanneer ik Calvin and Hobbes voor het eerst las. We hadden van die verzamelalbums – The Essential, The Authoritative en The Indispensable. Eigenlijk waren ze van mijn broertje die een nog grotere fan was. Toen heeft hij die prachtige hardcover complete editie een keer gekregen voor een verjaardag of sinterklaas, en toen mocht ik de verzamelalbums hebben. Tegen die tijd vielen ze al geheel uit elkaar, maar het voordeel daarvan is dat ik ze zonder schuldgevoel op de wc heb gelegd. Zo lees ik elke dag nog Calvin and Hobbes!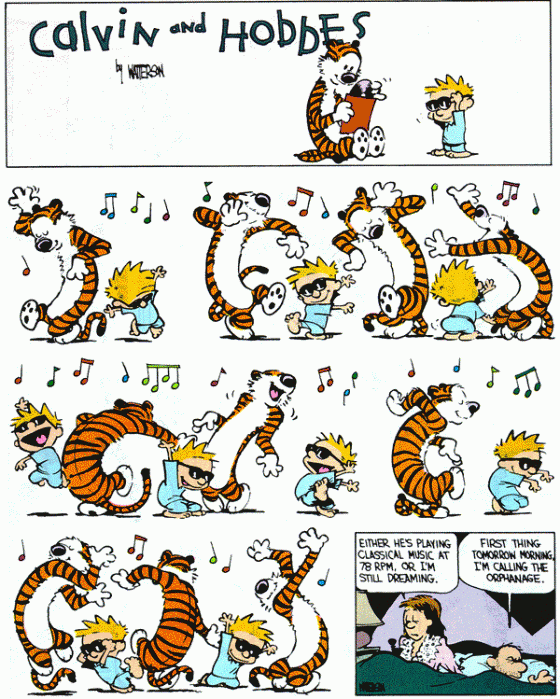 In de rubriek Stripliefde vertellen striplezers over hun favoriete strip of strips. Op deze manier bouwen we langzaam een interessante leeslijst op. Ook meedoen? Check hier hoe je dat doet. Ik kijk uit naar je inzending. Oh ja: mocht iemand anders al je favoriete strip genoemd hebben, stuur dan even goed je inzending in, want jouw reden om de strip goed te vinden kan heel anders zijn. Bovendien is je eerste kennismaking en wat dat met je deed waarschijnlijk anders dan die van andere lezers.