De meeste verjaardagen, inclusief die van mijzelf, vier ik niet, maar bij de verjaardag van Stan Lee sta ik graag even stil. Vandaag is Lee maar liefst 92 jaar geworden. Ik hoop dat hij minstens 200 jaar oud wordt.
Stan Lee is toch wel de belangrijkste schrijver in mijn leven. Zonder zijn creaties, en dan vooral Spider-Man natuurlijk, had mijn leven er anders uitgezien. Stan Lee werd op 28 december 1922 geboren in Manhattan, New York. Zijn echte naam is Stanley Martin Lieber, maar zijn naam heeft hij ooit laten veranderen in Stan Lee. Deze naam begon hij te gebruiken toen Lee comics begon te schrijven. Zijn echte naam wilde hij bewaren voor als hij een echte roman ging schrijven. Grappig, want met zijn stripcreaties heeft Lee waarschijnlijk de Amerikaanse cultuur meer verrijkt dan hij ooit met het schrijven van romans had gedaan. Hoewel we dat nooit zullen weten natuurlijk.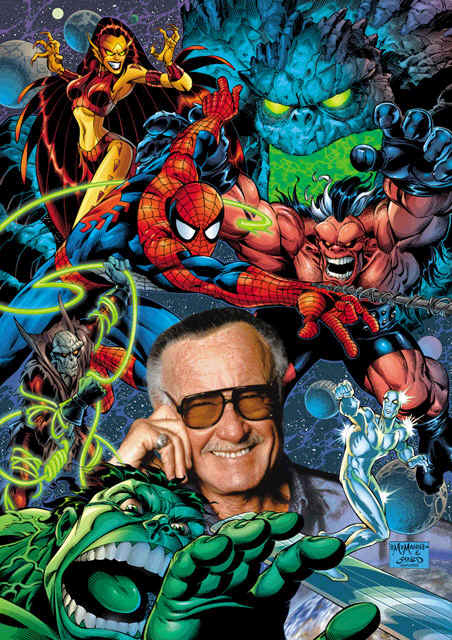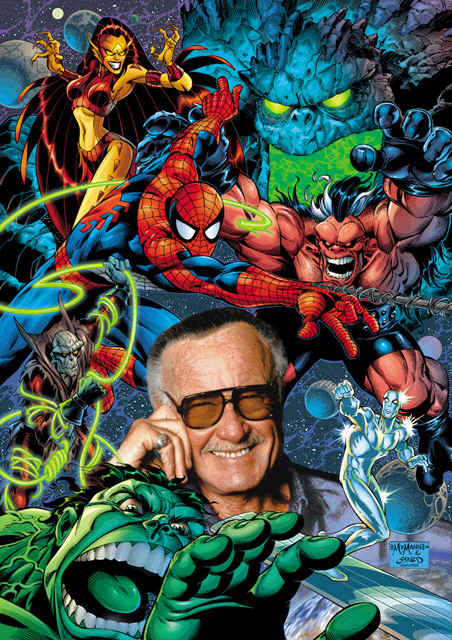 Samen met tekenaars Jack Kirby, Steve Ditko en anderen heeft hij een grote groep personages bedacht die het Marvel Universum bevolken. The Fantastic Four, Daredevil, Doctor Strange, The Hulk, Black Panther, Iron Man – zijn slechts enkele voorbeelden. Allemaal helden met een bijzondere persoonlijkheid. Lee voelde de tijdsgeest goed aan en creërde superhelden die een stuk menselijker waren dan wat men tot dan toe gewend was. Voor mij is the Amazing Spider-Man zijn belangrijkste creatie: sinds ik Peter Parker op mijn achtste heb leren kennen, heeft hij een belangrijke rol in mijn leven gespeeld. Spider-Man is een goede vriend, een positief rolmodel en inspirerend personage. Er is geen enkel ander fictie figuur waar ik me zo serieus mee verbonden voel. Daarom is Lee voor mij als bedenker en schrijver belangrijker dan Shakespeare, Oscar Wilde of Ian Fleming.
Lee is nog steeds hyperactief en zit achter allerlei projecten. Hij treedt nog geregeld op op stripbeurzen en heeft in bijna alle Marvel-films een cameo. Ik ken maar weinig mensen van die leeftijd die nog zo'n actief leven hebben. Ik denk dat Stan heel positief in het leven staat en dat hij daarom al zo oud is geworden. Net als Spider-Man is hij daarom een positief rolmodel.
Na Stan zijn er nog een paar heel goede schrijvers geweest die over Peter Parker en zijn wereld boeiende verhalen hebben geschreven zodat het personage relevant bleef al die jaren. Dat geldt natuurlijk ook voor de andere Marvel-personages. Maar zonder Lee's inzet en creativiteit was er helemaal geen Marvel Universum geweest. Daarom buig ik diep voor Stan Lee en feliciteer ik hem graag met zijn geboortedag. Tot mijn grote spijt heb ik hem nog nooit ontmoet of kunnen interviewen en ik vrees dat die kans erg klein is.
In de comicreeks Stan Lee Meets, geschreven door onder andere the Man himself, ontmoet de geestelijk vader wel enkele van zijn creaties. Een ontmoeting met de muurkruiper ontbreekt natuurlijk niet. Stan Lee heeft een avondje vrij en staat koekjes te bakken als Spider-Man onverwachts bij hem op bezoek komt. Spidey vraagt Lee om raad omdat hij heeft geen zin meer heeft om de superheld uit te hangen. Hij is moe van het constant moeten vechten met superschurken. Vooral omdat niemand waardeert wat hij doet. 'Look, all I'm trying to say is it isn't fair! I wanna lead a normal life, just like anyone else.'
Stan Lee, die altijd wel een gevat antwoord heeft, geeft Spider-Man daarom de volgende motiverende speech: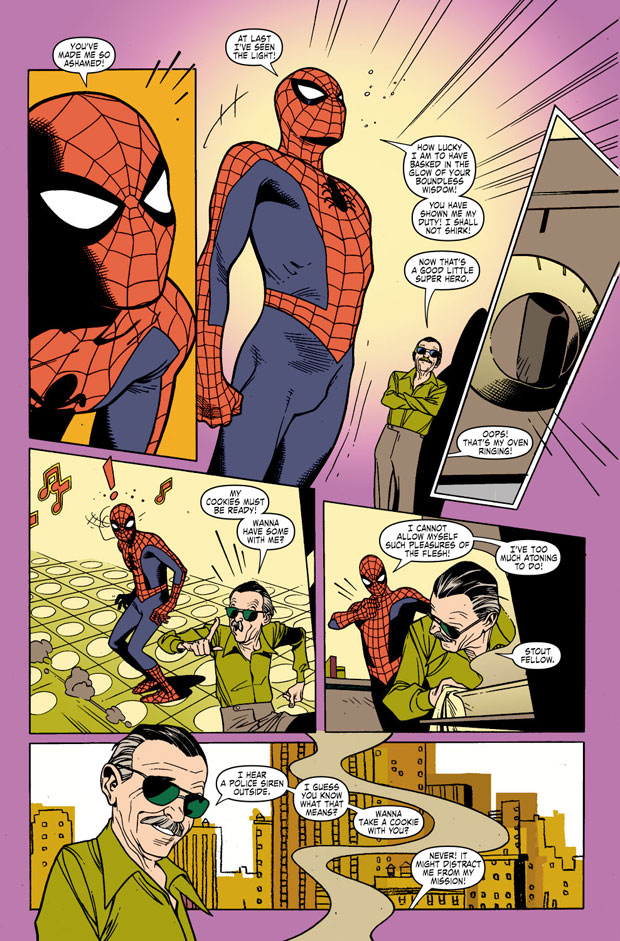 Een beetje flauwe grap, waar wel een kern van waarheid in zit: Spider-Man heeft inmiddels miljarden dollars opgebracht. Hij hoort net zo bij de Amerikaanse cultuur als Batman, Coca Cola en hamburgers.