Voorheen bezocht ik mijn moeder zeer regelmatig. Dat is tegenwoordig wat lastiger, want ik woon niet meer bij haar in de buurt, dus daarom bellen we elkaar geregeld. Ook dat heb ik geleerd van Spider-Man-strips.
Een interessant en warmhartig element in de Spider-Man-strips is de band tussen Peter en zijn Tante May. May is zijn surrogaat moeder en de twee familieleden drukken hun liefde voor elkaar vooral uit door zich heel veel zorgen over de ander te maken. May maakt zich altijd zorgen of Peter wel goed eet en of hij een warme trui aan heeft. Dat werkte in het begin van de Spider-Man-reeks als een aardige grap, want over Spider-Man hoef je je natuurlijk geen zorgen te maken.
Een terugkerend element in de verhalen zijn de telefoontjes tussen Peter en May. De oude vrouw wil graag weten dat alles goed gaat met haar neefje en vraagt hem om haar te bellen. Soms schiet dat er wel eens bij in, als Peter als Spider-Man met een of andere superschurk moet vechten. In Peter Parker The Spectacular Spider-Man #57 (1981) laat hij zich daar zelfs niet door tegenhouden om zijn tante even te bellen: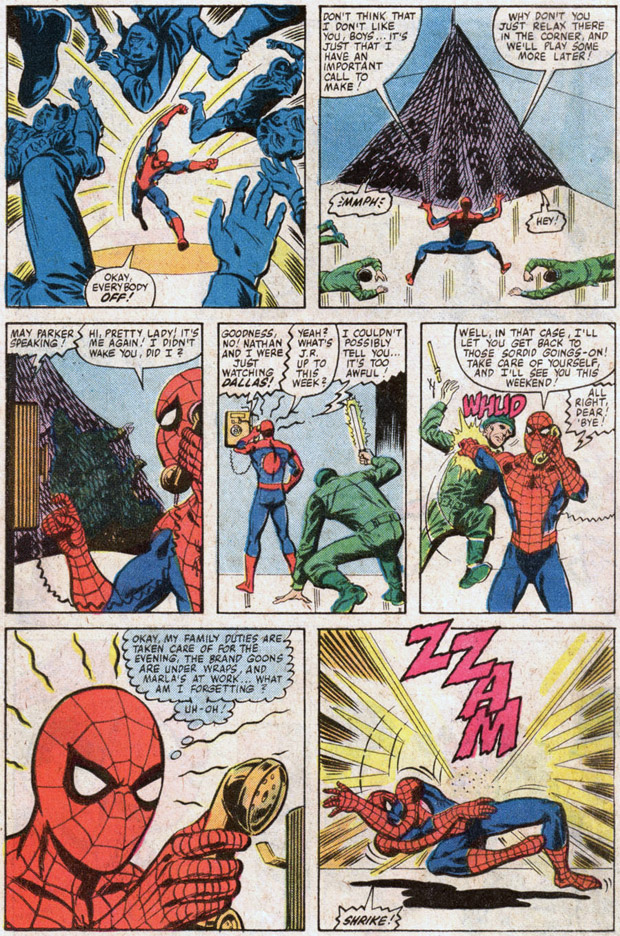 Goed, schrijver Roger Stern gebruik dit element hier vooral als stukje slapstick. Saillant detail: de layouts van de tekeningen zijn gemaakt door Jim Shooter, toen al hoofdredacteur van Marvel Comics, maar altijd zeer streng als het om de visualisatie van de verhalen gaat. Ten alle tijden moest de tekenaar duidelijk laten zien wat er aan de hand is. Jim Mooney inkte de tekeningen.
Een emotioneler en dramatischer gebruik van bovengenoemd verhaalelement zien we in Amazing Spider-Man Vol. 2 #34 (#475 in de oude telling). Spider-Man neemt het op tegen Morlun, een vijand die onverslaanbaar lijkt. Al twaalf uur is Spider-Man tegen hem aan het vechten en het lukt Spidey maar niet om Morlun te verslaan. Peter vermoedt dat dit zijn laatste gevecht wordt en belt eerst met zijn vrouw Mary Jane, maar krijgt voicemail. Dan belt hij met Tante May: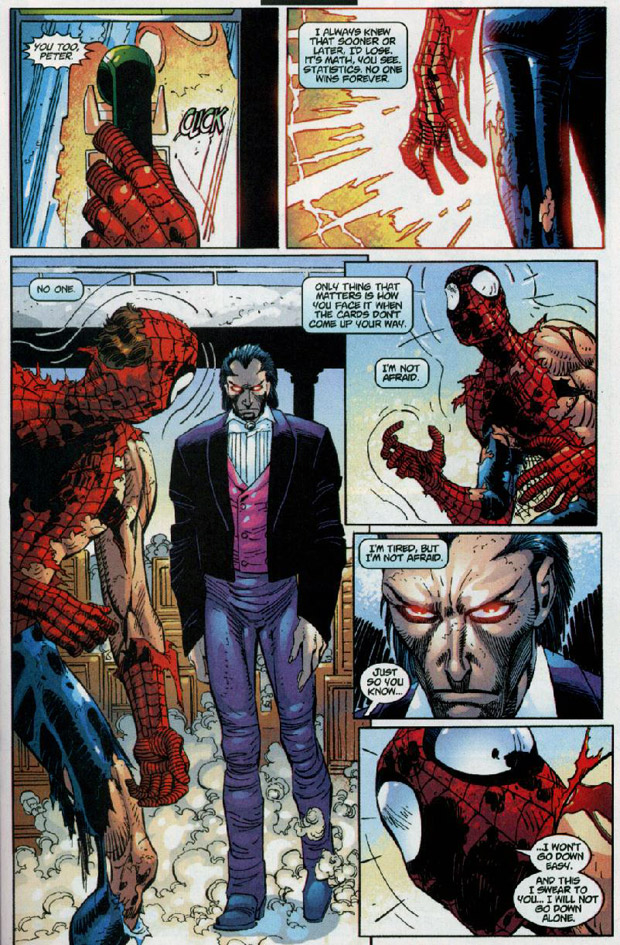 Schrijver J. Michael Straczynski trakteert ons op een prachtig dramatisch en emotioneel moment. Hij laat zien dat de Spider-Man-verhalen draaien om Peter Parker en de mensen in zijn leven, niet om de superheldenpraktijken daar omheen.
Dat Peter de moeite neemt om met May te bellen, laat zien dat hij om haar geeft en hoe serieus de confrontatie met Morlun is. Dit is niet een tien-in-een-dozijn gevecht tegen een superschurk maar een strijd op leven en dood.
Als we de dood in de ogen kijken beseffen we pas dat het leven draait om liefhebben en dat we niet vaak genoeg tegen onze naasten zeggen dat we van ze houden. Een wijze les.
Wanneer heb jij voor het laatst met je ouders gebeld?