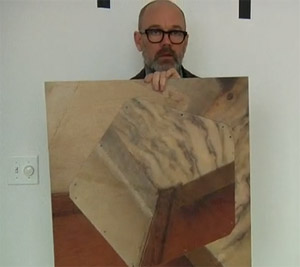 R.E.M. houdt ermee op en dat mag je spijtig vinden of niet. Ik heb altijd erg van R.E.M.s muziek genoten. Goed, ik draaide hun cd's niet dagelijks, maar de heren van R.E.M. waren welkome onregelmatige gasten die mijn trommelvliezen mochten kietelen.
Maar daar wil ik het nu niet over hebben. Wel wil ik even bloggen over het video-interview van The Creators Project met Michael Stipe. Ik wist eerlijk gezegd niet dat hij zo druk was met het maken van kunst: foto's en sculpturen. Ik wist overigens ook niet dat hij online publiceert op een blog. Jawel, Michael Stipe is een blogger!
Ik kwam erachter door een blogpost van blogvriend Jeroen Mirck waarin hij afscheid neemt van een van zijn favoriete bands.
Het compacte video-interview geeft een aardig beeld van het werk dat Stipe maakt en zijn visie op kunst. Ik vond het tien boeiende minuten en ben benieuwd naar jouw reactie.