Er was eens is een boeiende stripreeks over het leven van de joodse ijzerhandelaar Joseph Joanovici. Volgens de een was hij een collaborateur, volgens de ander een verzetsstrijder. De strip van Fabien Nury en Sylvain Vallée toont dat de man beide was. Tijdens de Tweede Wereldoorlog was het leven zwaar en om zijn vrouw en twee dochters te beschermen laat Joanovici zich in met zowel de nazi's, het Franse verzet en met criminelen.
Eerder schreef ik al een recensie over deze reeks naar aanleiding van het derde deel. Nu is het vierde deel: Te wapen! verschenen bij de Standaard Uitgeverij. We hebben er een jaar op moeten wachten: een korte weergave van het voorafgaande aan het begin van het album had ik daarom fijn gevonden.
Uiteindelijk worden het zes afleveringen, de laatste is reeds in het Frans gepubliceerd bij Glénat.
In Te Wapen! sluit, in de nadagen van de oorlog, het net zich rond Joanovici. Hij moet harde beslissingen nemen en zowel de nazi's als het verzet op een bepaalde manier verraden om zijn huid en dat van zijn gezin te redden. In een indrukwekkende scène moet hij ook letterlijk zijn handen vuil maken en onschuldigen offeren.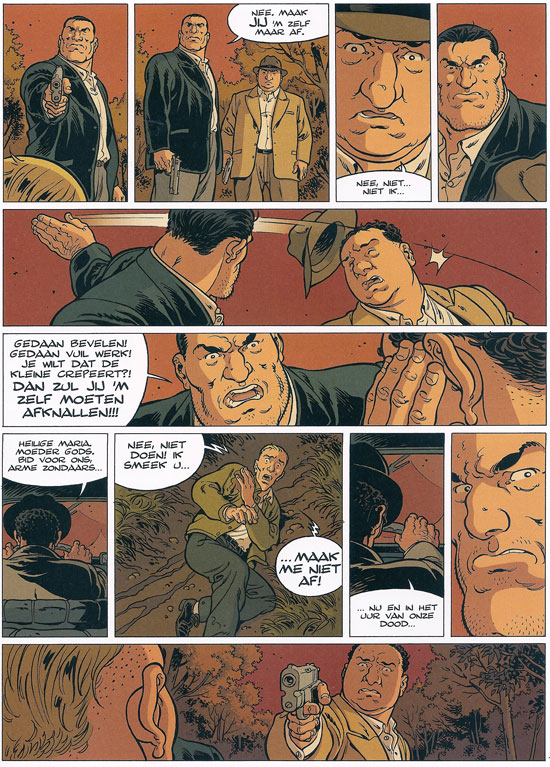 Met deze daad overschrijdt Joseph onherroepelijk een grens. Zijn ziel zal niet onbezoedeld uit de strijd komen en is nog maar de vraag of hij met zijn acties niet juist verliest wat hij het hardste probeert te beschermen, namelijk zijn gezin.
Fabien Nury en Sylvain Vallée.  Er was eens 4: Te wapen!
Standaard Uitgeverij.
ISBN 9789002248610, € 12,95
Daarom Minneboo leest:
Maandelijks krijg ik van veel uitgeverijen stapels strips toegestuurd. Daar zit veel moois tussen, maar niet alles is geschikt voor de bladen en opdrachtgevers waar ik voor schrijf. Toch wil ik deze uitgaven onder de aandacht brengen. Daarom heb ik de rubriek Minneboo leest in het leven geroepen, om te laten zien hoe rijk en divers het medium strip kan zijn. De artikelen in deze rubriek zijn geen recensies (die teksten staan gepubliceerd in de bijhorende rubriek), maar kunnen thematisch zijn, een tekenstijl belichten of simpelweg een nieuwe uitgave kort aanstippen. Verwacht vooral veel recent verschenen strips, met zo nu en dan een album dat ik op dit moment lees en waar ik iets over kwijt wil.