Vrijdag 21 oktober wordt Wonder Woman officieel de ere-ambassadeur bij de Verenigde Naties voor vrouwenemancipatie.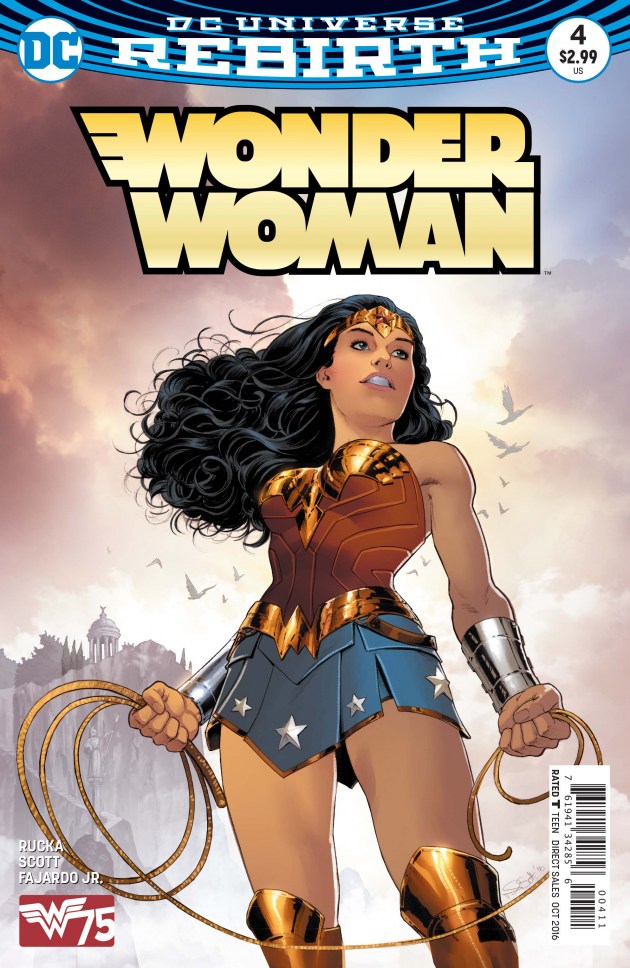 Ze wordt dus de Honorary Ambassador for the Empowerment of Women and Girls, als je het mooi in het Engels wilt zeggen.
Secretaris-generaal Ban Ki-moon zal de superheld officieel benoemen tijdens een ceremonie op 21 oktober. Naar verluidt zullen DC Entertainment president Diane Nelson, Gal Gadot en Lynda Carter ook bij de ceremonie aanwezig zijn. Gadot speelt Wonder Woman in de gelijknamige film die volgend jaar uitkomt en was in het debacle Batman V Superman een van de weinige lichtpuntjes. Carter vertolkte Wonder Woman in de gelijknamige tv-serie die drie seizoenen op de buis was van 1975 tot 1979.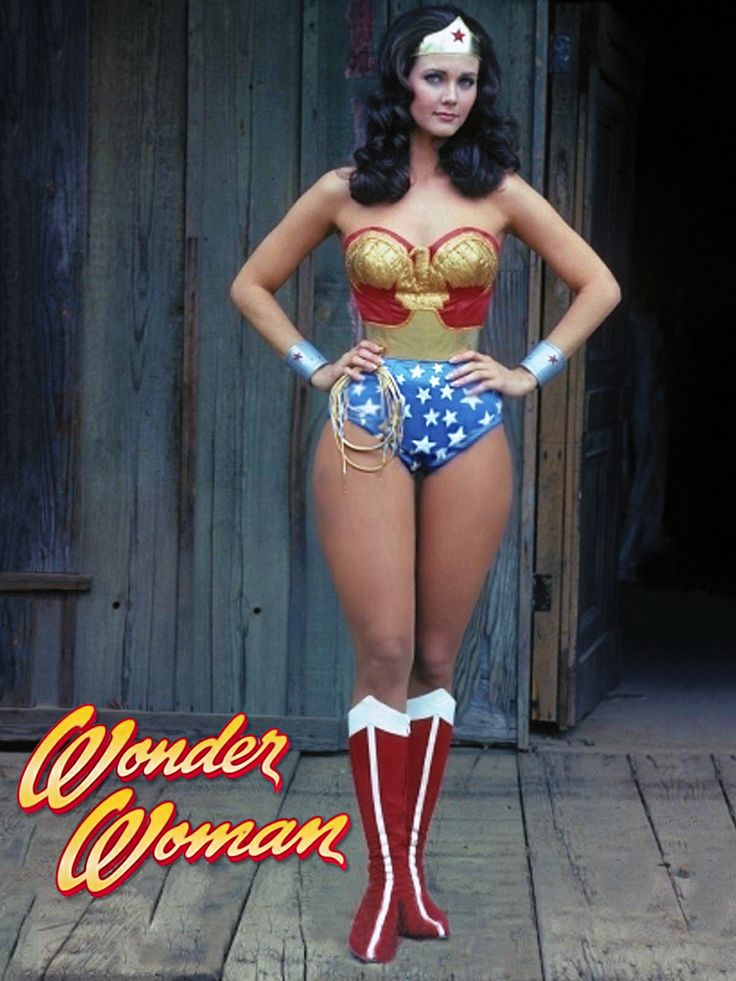 Met de ceremonie begint ook een nieuwe VN-campagne om gender gelijkheid te stimuleren.
Wonder Woman vind ik op zich een prima keuze voor deze functie:
1. Ze is een van de bekendste vrouwelijke superhelden. Samen met Superman en Batman vormt ze het fundament van DC Comics. Deze drie superhelden zijn culture iconen die over de hele wereld bekend zijn.
2. In de verhalen is ze ook een symbool voor vrouwenemancipatie en gender gelijkheid.
3. Superhelden zijn op dit moment onwijs populair. Dus als een organisatie als de VN, die toch een beetje een stoffig imago heeft, aansluiting zoekt bij jongeren bijvoorbeeld, dan is een superheld een prima keuze hiervoor.
4. Recent gaf schrijver Greg Rucka toe dat Wonder Woman 'queer' is in de zin dat ze romantische en seksuele relaties heeft met zowel mannen als vrouwen. Dat laatste is ook niet zo gek, want ze woont op een paradijselijk eiland met alleen maar vrouwen, ook wel Amazones genoemd. Ze is dus niet alleen een symbool voor vrouwenemanicaptie, ze is ook een van de weinige biseksuele superhelden.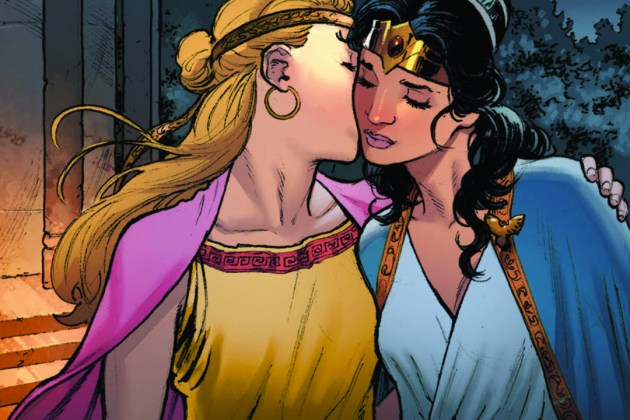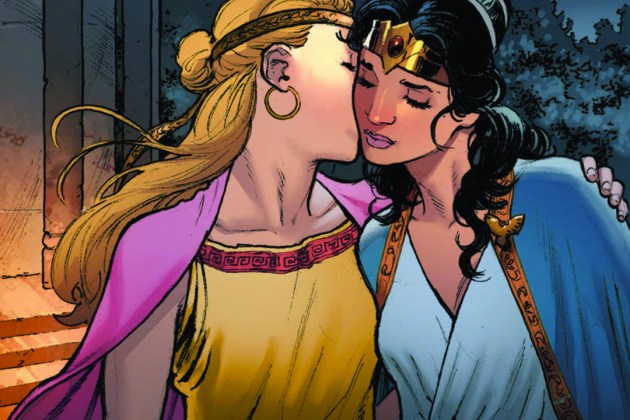 Biseksueel
Rucka legt in een recent interview uit dat de Amazones eigenlijk de term hetero- en homoseksueel niet kennen in hun maatschappij:
'It's supposed to be paradise. You're supposed to be able to live happily. You're supposed to be able — in a context where one can live happily, and part of what an individual needs for that happiness is to have a partner — to have a fulfilling, romantic and sexual relationship. And the only options are women.

But an Amazon doesn't look at another Amazon and say, "You're gay." They don't. The concept doesn't exist.

Now, are we saying Diana has been in love and had relationships with other women? As Nicola and I approach it, the answer is obviously yes.'
Op dit interview kwam wel wat commentaar, want hoewel men blij is dat Wonder Womans queerness eens genoemd wordt, vindt bijvoorbeeld Elle Collins van ComicbookAlliance.com dat dit explicieter in de verhalen getoond mag worden:
'But what's odd in that interview is how dedicated Rucka is to the idea that Wonder Woman's queerness, which he acknowledges as inherent and obvious, need never be directly stated in a comic book.'
Dat hoeft niet per se een coming out scène te zijn, maar in plaats van dat Wonder Woman een kus op de wang krijgt kan zoiets ook explicieter.
'Or what about a story where Wonder Woman protects a queer couple from anti-queer violence? It must have been weird for Diana to come from where she did and realize how differently same-sex relationships are viewed in "Man's World." If you're going to have a queer Wonder Woman, why wouldn't you want to tell a story as moving as that? A story where it makes sense for Wonder Woman to say to another queer character, and by extension every queer reader, "I am no different from you. I have loved women as well as men. No one should hold that against either of us."
Daar snijdt Collins een interessant punt aan. In het huidige klimaat van homohaat kan het geen kwaad als dit soort scènes meer in comics voorkomen. Als je als uitgeverij iets zegt over de seksuele geaardheid van een personage, moet dat niet alleen in interviews gebeuren, maar ook in de strips zelf, want die zijn canoniek.
Fictieve helden
Wonder Woman is niet het eerste fictieve personage dat deze eretitel krijgt. In 2009 was Tinkerbell de ambassadeur van het Groen en Winny the Pooh was de ambassadeur van de vriendschap in 1998. TinkerBells benoeming kwam tot stand in samenwerking met de Verenigde Naties om, in aanloop naar de klimaatconferentie in Kopenhagen, op speelse wijze het milieu bij jong en oud onder de aandacht te brengen.
Fictieve personages gebruiken heeft zo zijn voordelen: iedereen kent deze culturele iconen en in tegenstelling tot echte mensen kunnen ze niet zo maar iets verkeerds zeggen of doen. Een Angelina Jolie kan opeens scheiden van haar man bijvoorbeeld en dat vinden sommige mensen niet zo netjes staan.
Het nadeel is wel: je kunt ze moeilijk ergens een speech laten houden en zijn dus vooral inzetbaar op sociale media.
Foute keuze?
Daarom vinden sommige feministen het ook helemaal niks dat Wonder Woman deze functie krijgt, zoals Charlotte Lytton van The Telegraph:
'So why not pick a representative who might have some personal thoughts and feelings about the treatment of women in the world, rather than a 75-year-old scribble? Surely the 20 million victims of female genital mutilation in Nigeria, for example, deserve a spokesperson who can actually, y'know, speak.'
Lytton wijst terecht op het feit dat de Verenigde Naties een organisatie is die gerund wordt door mannen en dat in de hogere functies die aangenomen werden in 2015 negen van de tien mensen mannen waren. Oeps. Daarna vervolgt ze nog een lijstje van vrouwen die beter zouden zijn als ere-ambassadeur dan een fictief personage.
75 jaar Wonder Woman
Vrijdag 21 oktober is trouwens tevens de 75ste verjaardag van Wonder Woman. In 1941 werd ze bedacht door psycholoog William Moulton Marston (1893 –1947), ook wel bekend als Charles Moulton. Hij baseerde het personage op zijn vrouw Elizabeth Holloway Marston en zijn geliefde Olive Byrne.
Wonder Woman is Diana, in de oorspronkelijke versie is ze prinses van de Amazonen uit de Griekse mythologie. Haar moeder is de Amazonekoningin Hippolyta. Ze kreeg van de Olympische Goden verschillende bovenmenselijke krachten en wapens. Ze is supersterk en kan zich staande houden tegen Superman.
Haar lasso is een van de belangrijkste wapens: wie daarmee wordt vastgehouden kan alleen nog maar de waarheid spreken. Ook kan de lasso iemands geheugen herstellen en illusies doorbreken en heeft de 'lasso van de waarheid' een beschermende functie. Met haar onverwoestbare armbanden kan Wonder Woman kogels en andere projectielen afweren.
Wonder Woman debuteerde in All Star Comics #8 (coverdatum Dec 1941). De verhalen die Moulton schreef bevatten opvallend veel bondage-elementen: Wonder Woman en de vijanden die ze bestrijdt worden vaak vastgebonden. Fysieke en mentale overgave is een terugkerend thema in die verhalen. Deze thema's kwamen voort uit zijn eigen filosofieën. In de loop der jaren is er aardig wat aan Wonder Woman gesleuteld. Iets wat goed naar voren komt in deze video: