Uitgeverij HUM geeft de klassieke stripreeks Torpedo 1936 integraal uit in vijf delen.
Torpedo 1936 draait om huurmoordenaar Luca Tortelli ten tijden van de Depressiejaren in de Verenigde Staten. Mooie crime-noir gangsterstrips waarin bloot, geweld en grofgebektheid niet worden geschuwd. Het zijn goede pulpverhalen die lekker weglezen.
De reeks werd geschreven door de Frans-Spaanse scenarist Enqique Sánchez Abulí. De eerste twee verhalen zijn getekend door Alex Toth, maar die had toch wat moeite met de toon en het geweldsgehalte van de strip. Toen nam de Spaanse tekenaar Jordi Bernet het over. Die leverde in de stijl van Toth mooie zwart-wit tekeningen die perfect de harde noir-sfeer van de strip oproepen.
De strip werd in Nederland vroeger gepubliceerd in het blad Titanic. Er zijn enkele albums uitgekomen bij Uitgeverij Arboris. De vermakelijke verhalen hebben verschillende lengte, maar zijn meestal een pagina of acht. Voor de eerste editie van HUM zijn de strips opnieuw vertaald en beletterd. Het album bevat 17 korte verhalen.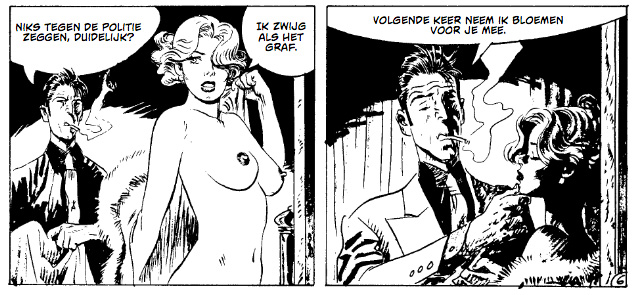 Het eerste boek is net uitgekomen. Mooi uitgevoerd met een harde kaft. Ik vind het bewonderenswaardig dat de mensen van HUM duidelijk veel tijd en energie in deze uitgave hebben gestoken. Ger Apeldoorn schreef een informatieve inleiding om de reeks te introduceren. Hij leunt hiervoor mijn inziens wel iets te sterk op citaten van Dick Matena. Enkele citaten van andere kenners had de tekst wat evenwichter gemaakt en minder een aflevering van Matena vertelt.
[hr]
Daarom Minneboo leest:
Als stripjournalist wil ik zoveel mogelijk strips onder de aandacht brengen. Daarom heb ik de rubriek Minneboo leest in het leven geroepen, om te laten zien hoe rijk en divers het medium strip kan zijn. De artikelen in deze rubriek zijn geen recensies (die teksten staan gepubliceerd in de bijhorende rubriek), maar kunnen thematisch zijn, een interview, een tekenstijl belichten of simpelweg een nieuwe uitgave kort aanstippen.