Een van de dingen die Peter Parker en ik met elkaar gemeen hebben is een passie voor comics en superhelden.
Amazing Spider-Man #-1 (coverdatum juli 1997) speelt zich drie jaar af voordat Peter zijn spinnenkrachten krijgt. Samen met Ben en May ruimt hij de zolder op. Peter vindt een doos met oude comics die van Ben zijn: Marvel Mystery, All Winners, Young Allies, Captain America en The Sub-Mariner. Allemaal Marvel Comics uit begin jaren veertig (toen Marvel nog Timely heette).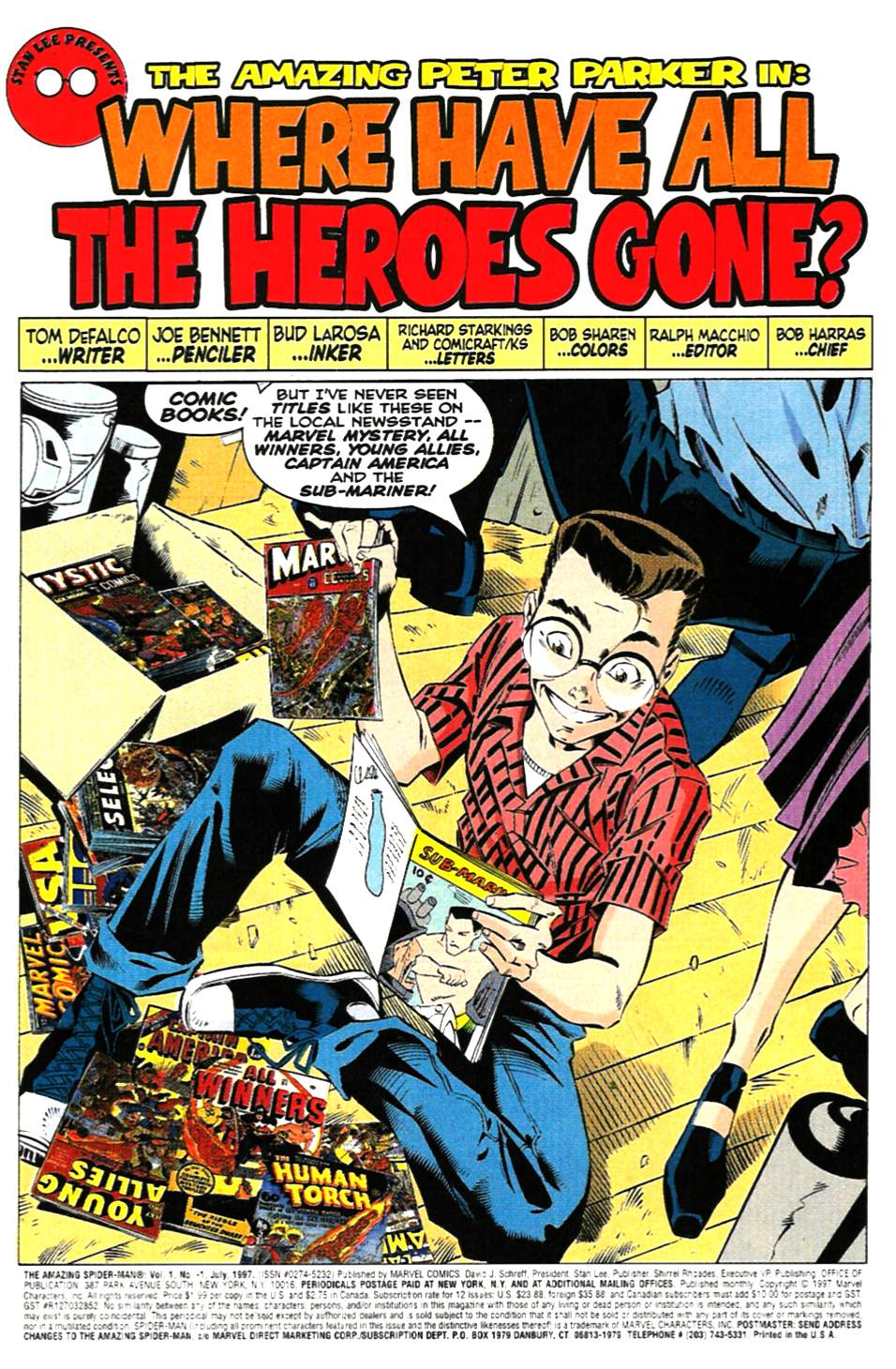 'They're filled with honest to gosh heroes in colorful costumes,' zegt Ben. 'True CHAMPIONS OF JUSTICE who also served as role models for HONOR, INTEGRITY and RESPONSIBILITY!'
Stan Lee had het niet beter kunnen zeggen, maar May vindt dat Ben overdrijft. Peter is echter zeer geïnteresseerd in de superhelden van weleer. Als hij de comics op bed ligt te lezen, droomt Peter ervan zelf ook een superheld te zijn. Zijn kostuum lijkt erg op die van Captain America. 'It must feel great to be ADMIRED by the police and the press. To be IDOLIZED by the public!' De toekomstige Spider-Man moest eens weten.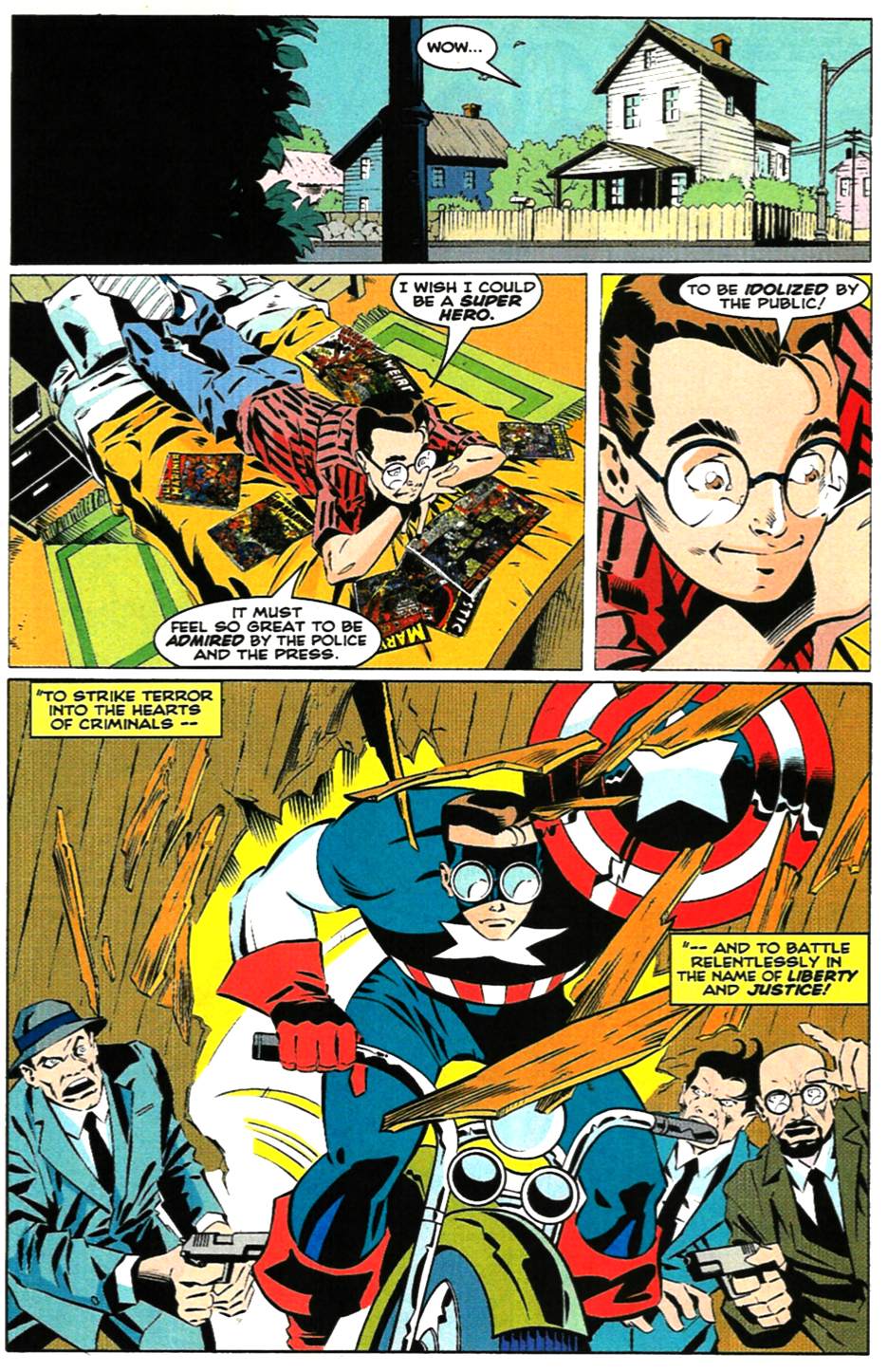 Zijn dagdromen worden onderbroken door Ben, die een met Peter wil honkballen. Het is zijn bedoeling dat door sporten Peters zelfvertrouwen een boost krijgt, maar als Ben de bal gooit slaat Peter die letterlijk mis met de honkbalknuppel en valt op zijn kont. Peter heeft geen aanleg voor sport. Ook dat hebben hij en ik helaas met elkaar gemeen.
Webschieters
Als de familie Parker later met oude kleren van zolder richting het Leger des Heils loopt, wordt May omver gereden door een jongen op een skateboard en verstuikt haar enkel. Peter voelt zich hulpeloos. 'Some super hero I'd make. I just stood there… while that punk ran down my Aunt! If only there were some way to STOP him.. If only I could reach out… and snag him!' denkt Peter, terwijl in zijn brillenglazen de skateboarder steeds kleiner wordt. Dit voorval en de superheldenverhalen geven Peter het idee voor zijn webschieters. Het basisidee hiervoor ontwerpt hij dus een paar jaar voordat hij Spider-Man wordt. Tenminste, volgens dit verhaal van Tom DeFalco en tekenaar Joe Bennett. Peter tekent de webschieters als Ben opmerkt dat hij zijn comics aan een stel buurtkinderen heeft weggegeven. Met andere woorden: zijn interesse in wetenschap heeft die in strips vervangen.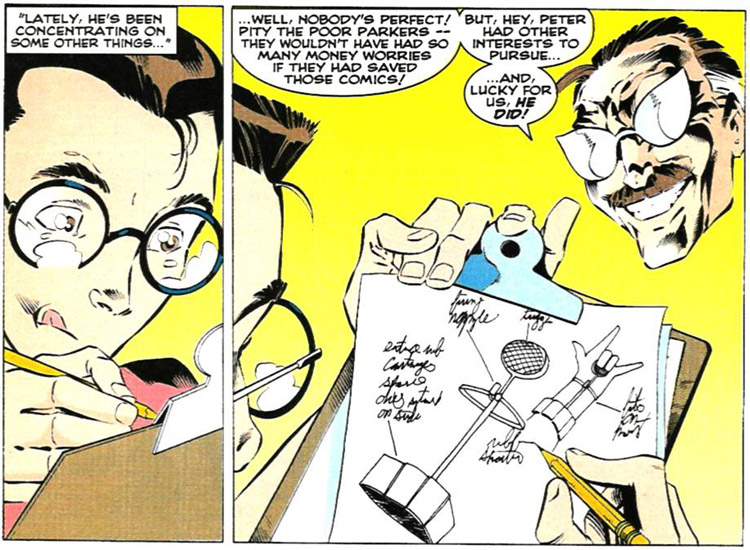 Oude liefde roest echter niet.
Supergirl
Als Peter met Mary Jane jaren later in Cleveland zijn om zijn boek Webs te promoten, een koffietafelboek waarin de beste van zijn Spider-Man foto's verzameld zijn, laat een fan zijn stapel vintage comics vallen die hij op een naburige stripbeurs wil verkopen. Een van die strips is Action Comics #285, waar Supergirl en Superman gezamenlijk op de cover staan omdat Superman haar aan de wereld voorstelt. Peter herkent de comic meteen, want die had hij ook als kind. 'I had a crush on the girl in the mini-skirt', bekent hij. Als Peter even later achter de signeertafel zit, wordt de betreffende comic onder zijn neus geschoven. Mary Jane heeft dit dure cadeautje voor Peter gekocht: 'Just wanted to show you I wasn't jealous of the "other woman" tiger!' zegt ze terwijl ze Peter omhelst en op zijn wang kust. (Te lezen in Amazing Spider-Man #306)