If we can believe Rick Remender's and Greg Tocchini's Low, vol. 1: The Delirium of Hope, the future of mankind seems bleak. The sun's premature expansion has irradiated Earth, and humanity has fled to the lowest depths of the seas, hiding within radiation-shielded cities.
For millennia mankind has been hiding in the cities with no hope of finding a new planet to inhabit. People have given up hope that one of the probes in outer space will ever find another place to stay. Except for Stel Caine, who believes there is a life-supporting planet out there. Stel never gives up hope.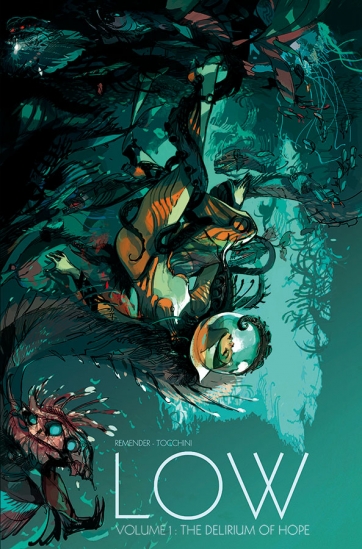 Stel's husband Johl Cain is the last helmsman of the city of Salus. When the family goes out in their ship so Johl can train his two daughters to become helmsmen as well, they are raided by a group of pirates. Their leader is the infamous Rolm who has a personal score to settle with the Cains. The pirates leave Johl for dead, steal the helm suit and kidnap the daughters, for only the Cain family's DNA will activate the helm. Now, ten years later only Stel and her son are left. When a probe returns from space and crashes on Earth's surface, Stel is convinced it contains information about a inhabitable planet. Determined she sets out to travel to the surface to reclaim the probe, taking her reluctant son with her on what is basically a suicide mission.
In a few months the air in the city will be toxic because of being recycled too many times, and therefore all inhabitants are dead meat anyway, so they haven't got a lot to lose. At least, that's what Stel thinks.
Rick Remender, scribe of titles such as Black Science, Deadly Class, Venom and Uncanny X-Force, gives us a bleak picture of humanity. Being on the brink of dying of bad air, the Senate has resorted to a lifestyle full of debauchery and self-indulgency, waiting for the coming end. Meanwhile, in the third underwater city the doomed population is entertained by gladiators fighting in the arena, while being controlled by their dictator Rolm. Even Stel's son Marik turns out to be a bad seed, he's a junkie cop that abuses prostitutes. Within all this despair, Stel keeps believing there is a better future and mankind can be saved. This element in the story I particularly liked: a female protagonist that remains positive against all odds.
As Remender explains in his foreword: 'Now I realize that in fifteen years I've never once written an optimistic character. […] A perfect character to examine the notion of that it's not what happens in life that defines us, but how we choose to deal with it.' To make this philosophical point concrete, Remender is joined by frequent collaborator Greg Tocchini. Tocchini's art looks like the figures are put to paper in just a couple of well-placed strokes, giving the work an impressionistic quality and vivacity. The bright, warm colors contrast with the bleak picture of humanity that Tocchini depicts making all the harsh occurrences of this science fiction tale a little bit easier to stomach.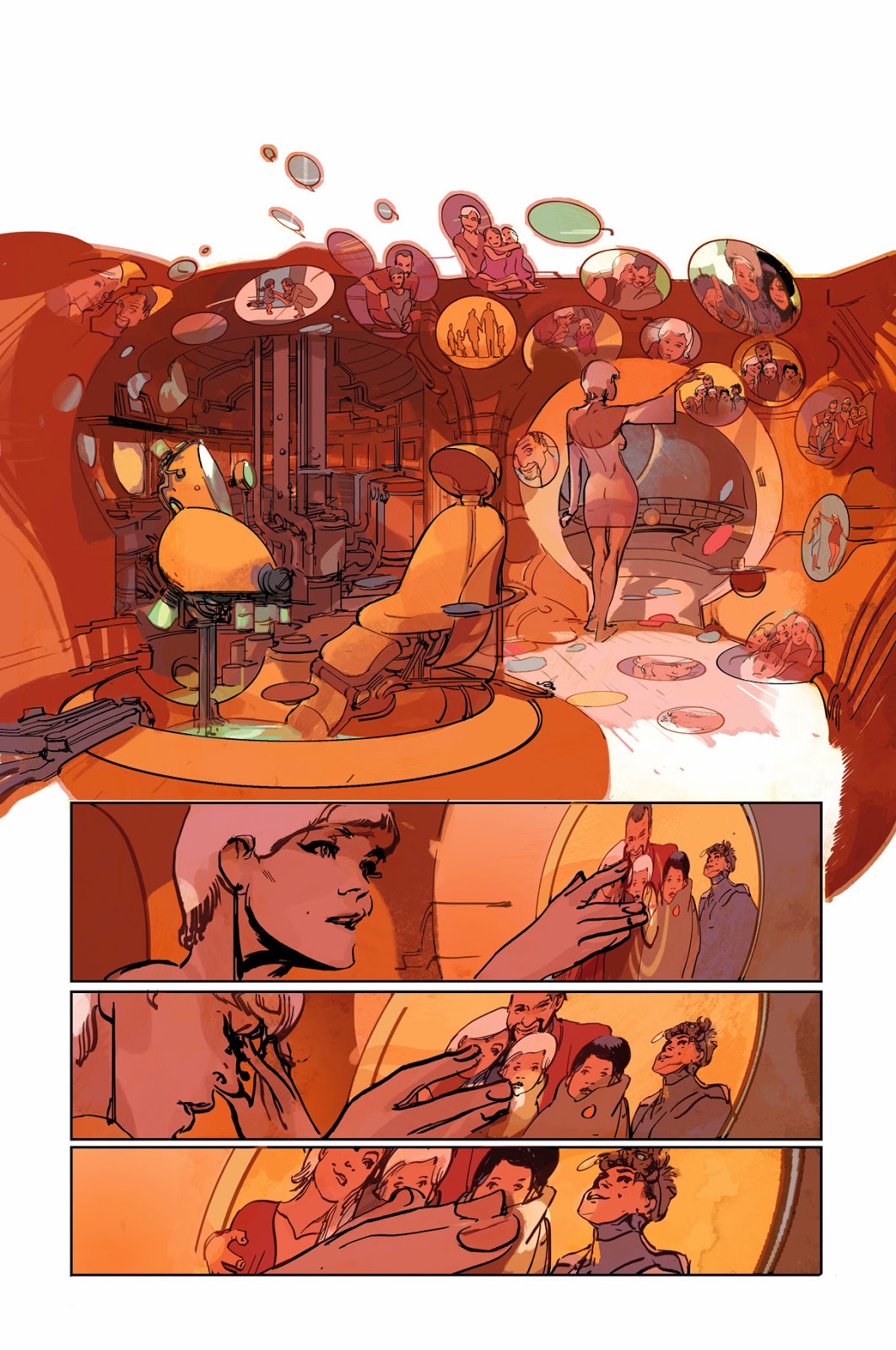 I recommend this comic for anyone who wants to read a science fiction story that is somewhat different, that has captivating twists and turns that keep the reader on his toes, an arresting visual approach, and an interesting female lead character. Low, volume 1: The Delirium of Hope contains the first six episodes and was recently published by Image Comics. The monthly series still continues. The tenth issue is scheduled for a September release.
This review was written for and published on the wonderful blog of the American Book Center.