John Romita Jr, die al bijna veertig jaar in het vak zit en al die jaren altijd voor Marvel Comics heeft gewerkt, is nu de tekenaar van DC's Superman! Daarom is dit het stripplaatje van de week: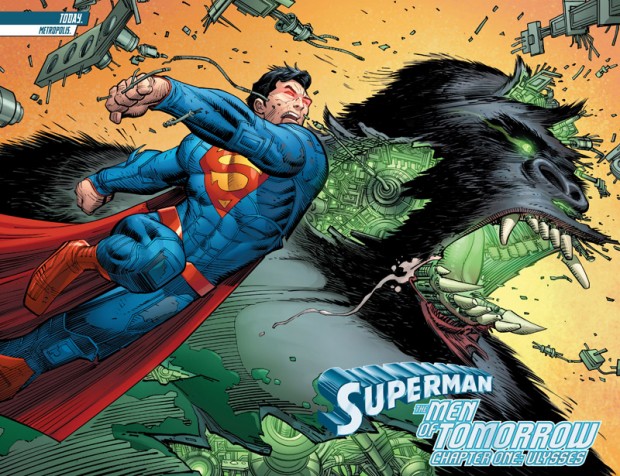 Het plaatje is afkomstig uit Superman #32 geschreven door Geoff Johns. Nu volg ik de avonturen van Superman niet zo nauwgezet, de recente reeks van Grant Morrison uitgezonderd, maar nu JRJR de Man van Staal en zijn wereld op papier zet, zal ik zeker de komende comics gaan lezen. Voor mij is een van de mooie dingen in het leven namelijk het kunnen volgen van de carrière van Romita Jr. Ik ben dol op zijn tekenwerk en gevoel voor storytelling. Hij is een van de beste striptekenaars die op dit moment actief zijn.
Door hem van Marvel af te snoepen, waar John zijn hele carrière voor heeft gewerkt, hebben de mensen bij DC Comics een behoorlijke coupe gepleegd. Los van een Punisher/Batman crossover uit 1994, wat een coproductie was tussen Marvel en DC, heeft Romita nog nooit voor hen gewerkt.
Over zijn nieuwe klus zei hij het volgende:
On working with Geoff Johns
I think it's important to have the humanity of [Superman]. Interestingly enough, he's an alien, but we have to make him human. He has to lose. I knew that going in. When I found there was a chance I would be working with [Geoff], I started reading up and was very, very happy. He's such a great guy. To see the quality of his dialogue and the quality of his stories, I was more than excited.

On Working on Superman
The size [and scope] of the character—to be able to have him doing amazing things, gigantic things, lifting certain things, beating up certain things. There's that larger-than-life image. There's a strength and weight that only comes with a character like this. The fun part is the characters in the Daily Planet—having them running around and talking with each other. Sometimes that's more vital than the smashing and the pounding. You have to embrace [both]. You have to be able to act in Shakespearean plays and Sylvester Stallone movies. You have to be able to do both. [Laughs]
Zie hier het hele interview. En lees hier een recensie van de betreffende comic op BrainFreeze.be.
Ik vermoed dat Romita na Superman inderdaad Batman zal gaan maken. Het zal dus wel een lange tijd duren voordat we weer een Spider-Man-verhaal van zijn hand kunnen lezen. Spijtig.