Het werd weer eens tijd vond ik: even lekker in een paar boeken duiken. De laatste jaren gun ik me daar te weinig tijd voor. Druk hebben we het allemaal, maar voor sommige dingen moet je tijd maken, zoals lezen. De geest moet gevoed.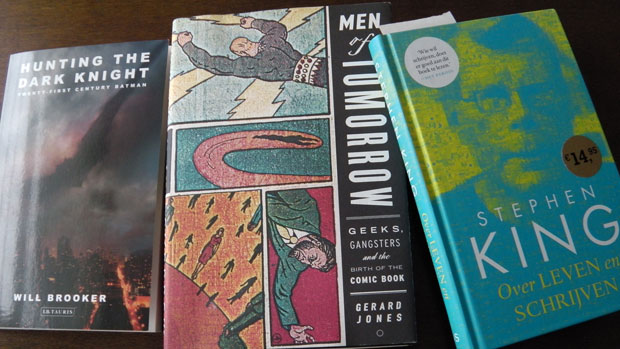 Na de drukte van Imagine had ik behoefte aan rust. Aangezien Linda met de Paasdagen op verschillende markten staat met Kadolab en ik dus alleen thuis zat, kon ik mooi op de bank duiken in bovenstaande titels.
Natuurlijk kun je ook een Faceboek lezen, maar die verhalen ken ik nu wel.
Nee, dan liever een interessante studie naar de Batman-films van Christopher Nolan van Will Brooker. Brooker schreef eerder boeiende studies over Batman als cultureel icoon en over de eerste Star Wars-film van George Lucas. Tussendoor lees ik hoofdstukken uit Men of tomorrow: Geeks, Gangsters and the Birth of the Comic Book van Gerard Jones, over hoe de kinderen van Joodse immigranten de Amerikaanse comicindustrie opbouwden.
En Stephen Kings Over leven en schrijven helpt me bij een speciaal schrijfproject. Het is erg inspirerend om zijn boek over schrijven te lezen.
Het lukt me tegenwoordig niet meer om een boek in één ruk uit te lezen. Daarvoor komen te veel dingen tussendoor. Net als mijn online mediagedrag lees ik dan maar stukjes. Dat levert op zichzelf al genoeg afwisseling op.