Locke & Key #1: Welcome to Lovecraft is a quality book. Joe Hill and Gabriel Rodriguez treat the reader to a captivating and well-executed supernatural thriller that you'll want to read in one reading session because it's a real page-turner.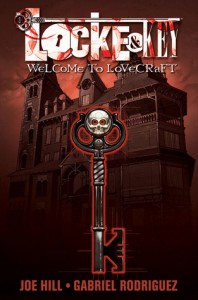 Reader, be warned, though: this series is very addictive. Most comic book stories seem to be never-ending. Such is the nature of comics. Sometimes this annoys me, because I like to have closure from time to time. Maybe that's why I like graphic novels so much because, when you reach the end of the book, it usually also means the story is finished. The series Locke & Key was published in comics format from 2008 through 2013. Right now it is finished. Welcome to Lovecraft is the first trade paperback of six. So basically Locke & Key reads like a graphic novel in six installments.
The series revolves around the Locke family. After the brutal murder of the father, the three siblings and their mother move to their ancestral home in Lovecraft, New England. The mansion is called Keyhouse and has magical keys and doors, giving the bearers of the keys magical powers. For instance, one of the keys gives you the power to temporarily die and turn into a ghost. Another key changes your sex. The Locke family will soon will find out that a devious demon, kept captive on the grounds, also has its eyes on the keys and is willing to shed blood to get them.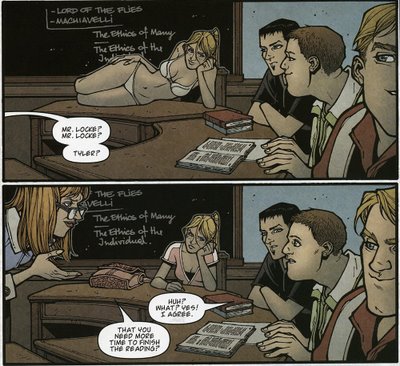 Author Joe Hill (yes, Stephen Kings' son and author of Wraith, which I reviewed a while ago) gives an original twist to the haunted house theme and treats us to very rounded and likable characters. The three Key kids have a hard time dealing with the murder of their father and all of them do this in their own way. These characters imbue the horror story with a lot of heart.
The horror and violence in Locke & Key feel real and are not for the faint of heart. Gabriel Rodriguez's art style is very lively, consisting of stark, clear lines. It's just cartoony enough to take some of the edge off of the depicted violent actions.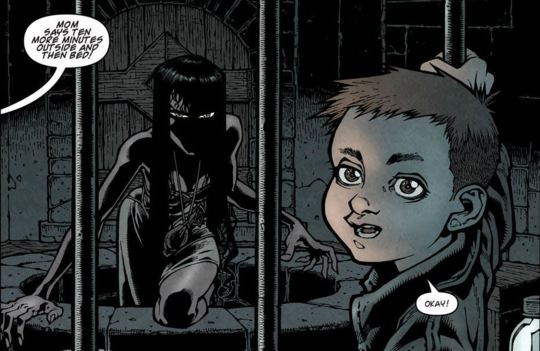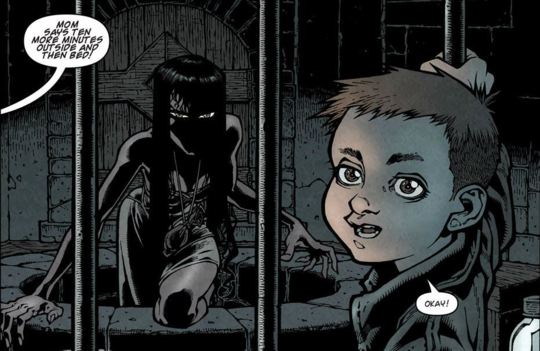 I wonder if an adaptation of the comics will be as graphically violent. Several years ago, Fox ordered a TV series pilot based on Locke & Key. The pilot was made, but the network decided to pass on the series. However, Universal is developing a movie adaptation at the moment. Locke & Key has won numerous awards, including an Eisner Award in 2011 for Joe Hill as Best Writer and the 2012 British Fantasy Award for Best Comic or Graphic Novel.
The Locke family might live in a harsh world, but it also contains a lot of magic. To me, Locke & Key is just that: comic book magic. I'd like to recommend you step through the door to enter this dark, but fascinating world. I enjoyed every page.
A special Locke & Key Master Edition, collecting the first two story arcs, was published earlier this month.
This review was written for and published on the wonderful blog of the American Book Center.