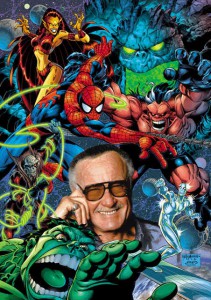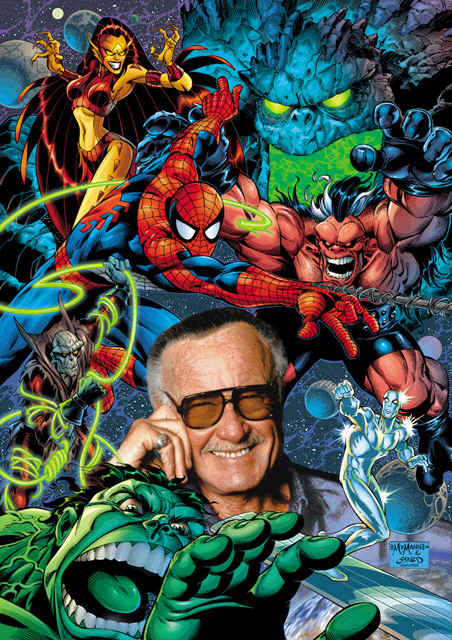 Vandaag krijgt striplegende Stan Lee een ster op de Hollywood Walk of Fame. Dat is heugelijk nieuws wat mij betreft. De inmiddels 88 jaar oude Lee was in de jaren zestig de drijvende kracht achter de creatie van een nieuwe reeks superhelden die onder de vlag van Marvel Comics gepubliceerd werden en worden. Helden als Spiderman, De Hulk, The Fantastic Four, Daredevil, Dr. Strange en Silver Surfer zijn door Lee en zijn creatieve kompanen bedacht.
Behalve superkrachten gaf Stan Lee zijn helden de sores van alledag mee. Hij creëerde daarmee meer realistischer en aansprekender helden dan de comiclezers tot dan toe gewend waren.
Je zou misschien zeggen dat het opmerkelijk is dat een stripscenarist een ster krijgt op de Walk of Fame, aangezien deze alleen wordt toegewezen aan vijf categorieën media, namelijk: film, tv, theater, audio-opnames en radio. Geen strips dus, maar het bereik van de creaties van Lee & co. is al sinds jaar en dag veel groter dan alleen de strippagina. Films, animatieseries, computergames – een miljardenindustrie bestaat rondom de superhelden.
De organisatie achter de Walk of Fame laat via een persbericht het volgende weten:
In 1981 Stan Lee transformed his Spider-Man and Hulk creations into Saturday morning and syndicated television cartoons. When Marvel Comics and Marvel Productions were acquired by New World Entertainment in 1986, Stan's horizons expanded even further, giving him the opportunity to become more deeply involved in the creation and development of filmed projects for both the big and small screen. He supervised such diverse animated series as X-Men, Spider-Man and The Hulk. To date, Stan's characters have populated over 24 separate television series, all of which continue in syndication around the world.
Stan Lee is altijd een van mijn helden geweest. Spiderman is een van mijn favoriete stripfiguren, maar ook de andere helden van Lee kunnen mij zeer bekoren. Op hoge leeftijd is hij nog steeds actief als schrijver en spreker. Ik vind het altijd een genot om deze immer enthousiaste man te horen praten. Terecht dus dat de 2,428ste ster op de beroemde straat in Hollywood ter ere van deze levende legende wordt neergelegd.
Hieronder een interview van CNN met Stan the Man.