Op Halloween heb ik natuurlijk alleen maar horrorfilms gekeken. Het spits beten we af met een wat onschuldige flick uit het genre: Disney's geanimeerde versie van The Legend of Sleepy Hollow uit 1949.
Sleepy Hollow van Tim Burton blijft een van mijn favoriete Halloweenfilms, maar omdat ik deze al een paar keer gezien heb, besloot ik vrijdag de animatiefilm van Disney te bekijken. Het oorspronkelijke verhaal van Washington Irving moet ik nog steeds een keer lezen, maar ik begrijp van de synopsis op wikipedia dat Disney dit verhaal redelijk goed volgt en dat Burtons interpretatie heel anders is.
Echte horror wordt de 32-minuten durende animatie natuurlijk niet, want bedoeld voor jonge kijkers, maar ondanks de guitige humor biedt The Legend of Sleepy Hollow toch een aardige kijkervaring. Bing Crosby is de verteller en afgezien van een vrouwenkoor zijn er verder geen stemmen te horen.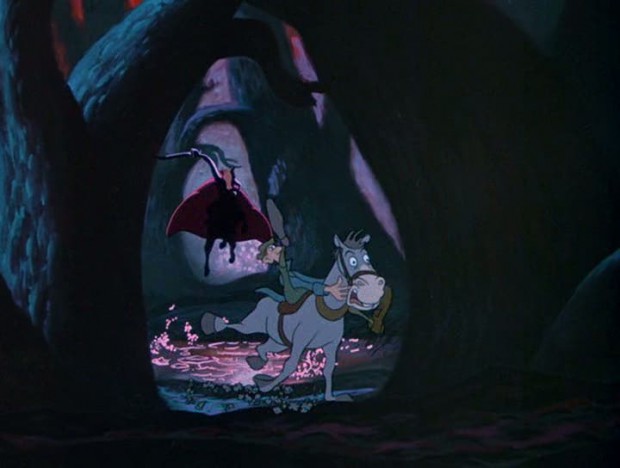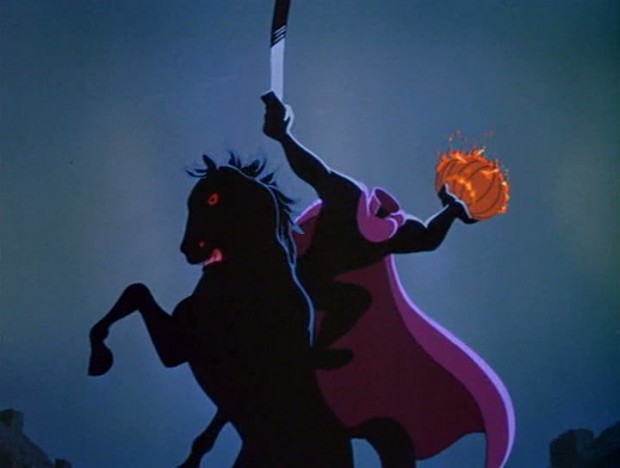 De scène waarin Ichabod Crane doodsbang door het bos rijdt, is zeer vermakelijk. Vooral omdat hier wordt ingespeeld op het inbeeldingsvermogen van de mens: als je bang bent, zie je overal spoken. Aangezien ik niet geloof in spoken, neem ik aan dat wanneer mensen vertellen dat ze geestverschijningen hebben waargenomen, vooral hun fantasievolle brein overuren heeft gedraaid. Deze scène is daar dus een aardige demonstratie van.
Recent ben ik begonnen aan de televisieserie die zijn inspiratie haalt uit The Legend of Sleepy Hollow. Toch kan deze mij maar matig boeiend: de personages blijven te veel steken in typetjes en willen maar geen echte mensen worden. Daardoor leef ik niet mee met hun avonturen. Ook wordt ieder mysterie aan het einde van iedere aflevering netjes afgerond. De twee hoofdrolspelers krijgen te vaak hun informatie van visioenen en ze lijken weinig moeite te hoeven doen om de bovennatuurlijke raadsels op te lossen. En echt eng wil het bovendien allemaal niet worden. Dan kijk ik toch liever Sleepy Hollow van Burton nog een keer.
Waarom de rubriek Frames?
De verhalen die we lezen en zien maken net zo goed deel uit van onze levensloop als de gebeurtenissen die we in reallife meemaken. In de rubriek Frames verzamel ik stills uit de films die ik heb gezien om zo die herinneringen te kunnen bewaren en koesteren.