Vorige week schreef ik over hoe de Spider-Cow voor het Art Hotel Amsterdam leidde tot de ontdekking dat dit soort kunstwerken over de hele wereld voorkomen. Een trend die waarschijnlijk zijn oorspong heeft bij de Griekse kunstenares Irene Vergitsi. Stef Vedder, de bedenker van de Nederlandse Spider-Cow, reageerde op de blogpost en vertelde mij het verhaal van zijn kunstwerk.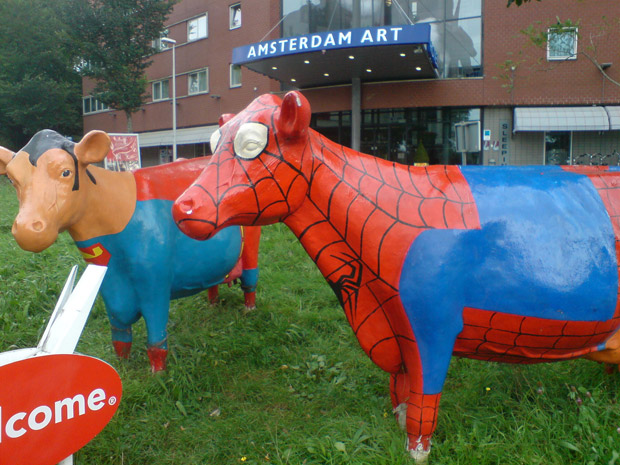 'Ik kreeg ergens in 2005 een verzoek van afvalverwerker ICOVA of ik een perscontainer wilde beschilderen zodat zij daarmee het Art Hotel als klant binnen zouden kunnen halen. Ik heb toen voor het thema superhelden gekozen omdat dat op een duidelijke manier kracht uit zou stralen. Dat idee heeft het Art Hotel toentertijd doen besluiten om met ICOVA in zee te gaan. Voor het Art Hotel stonden twee koeien (beschilderd door kunstenaars die aangesloten waren bij galerie Donkersloot) en die waren kapot. Omdat ze onder de indruk waren van de perscontainer hebben ze mij toen gevraagd of ik die koeien opnieuw kon beschilderen. Ze hebben toen twee nieuwe koeien laten komen en die heb ik beschilderd als mijn favoriete superhelden, Superman en Spider-Man. De Spider-Man zag er eerst heel anders uit, maar omdat de grondlaag van de koeien niet goed was, liet de verf los. Ik heb toen de koe bij de poten afgezaagd en hem helemaal beschilderd als een vrije interpretatie van Spider-Man. Ik ben dus niet geïnspireerd door de andere kunstenaars die een Spider-Cow hebben geschilderd. Hij is dus zo beschilderd vanwege de perscontainer. Ik wilde het thema doortrekken en vond de koeien een leuk en absurdistisch onderwerp om dat te doen.'

'Het is ook wel leuk om te melden dat ik dankzij deze koeien tegenwoordig mijn brood verdien met kunst. Ik heb namelijk een reclamebureau gehad wat zwaar getroffen werd door de crisis. Toen heb ik besloten om het beschilderen van koeien uit de kunstenaarssfeer te halen en het bij bedrijven aan te bieden als de workshop Beestachtig schilderen. Dat gaat op dit moment heel goed. Het biedt mij de mogelijkheid om de kunst te maken die ik wil (kunst met ballen en andere concepten) en mensen de lol te laten beleven die het maken van kunst met zich meebrengt.'
Zo zie je maar dat er een heel interessant verhaal schuil kan gaan achter een Spider-Cow.