Marvel komt in oktober met enkele variant covers om pesten onder de aandacht te brengen. Eigenlijk wilde ik hier niet over schrijven, totdat ik deze hilarische variant cover met de Hulk zag: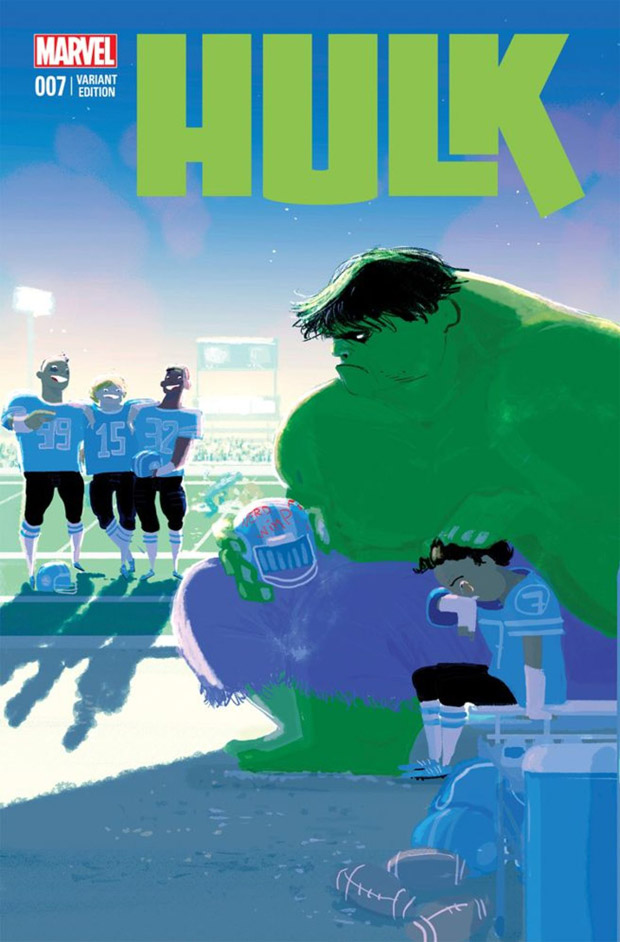 Marvel voert de campagne in samenwerking met de STOMP Out Bullying campaign die met Blue Shirt Day wereldwijd het pesten wil aanpakken.
"The center of Marvel's storytelling history is the eternal struggle between good and evil, with many of its greatest super heroes having to contend with – and rise above – bullying, in all its forms," aldus Axel Alonso, Editor in Chief van Marvel Comics. "We are proud to join forces with STOMP Out Bullying on its important bullying prevention awareness mission. We hope that all our fans take a moment this month to educate themselves on the need to stop bullying among our youth by checking out the free resources STOMP Out Bullying has to offer."
Ik vind het natuurlijk een goede zaak dat een bedrijf als Marvel Comics de bekendheid van hun personages gebruikt om het fenomeen pesten onder de aandacht te brengen. Het gaat niet alleen om pesten op het schoolplein maar ook via het web en andere vormen. Dankzij sociale media hebben de pestkoppen er immers nieuwe wapens bij gekregen.
Er zitten veel variant covers tussen van Guardians of the Galaxy. Dit is niet zo gek, want de film is een enorme hit. Ik heb er nog geen gezien met Peter Parker op het omslag, en dat zou wat mij betreft wel moeten, want als er een Marvel-held met pesten te maken heeft gehad als tiener, dan is het Peter wel.
Dit zijn de variant covers:
ROCKET RACCOON #4
GUARDIANS OF THE GALAXY #20
AVENGERS#36
INHUMAN#7
HULK #7
CAPTAIN AMERICA #25
LEGENDARY STAR-LORD #4