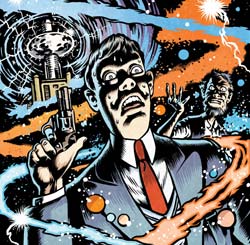 Zone 5300 verzorgt de 8e IMG LAB avond in de Unie op maandag 16 mei. Het wordt een bonte avond met een aantal coryfeeën uit de stal van de Zone: Erik Kriek over H.P. Lovecraft, Frits Jonker over van alles, Robert van Raffe over zijn aanstaande graphic novel en de animaties van studio Mooves (Jantiene de Kroon, Remco Polman en Wilfred Ottenheijm).
Het Image Festival organiseert niet alleen het jaarlijks symposium en expositie festival over beeld en beeldmakers maar laat ook maandelijks van zich horen. Elke derde maandagavond van de maand toont het festival in samenwerking met collega's als bijvoorbeeld de BNO, Playgrounds of Zone 5300 thema-avonden, uiteraard over beeld, vormgeving en ontwerp.
Wat kun je op de avond van Zone 5300 verwachten?
Mooves (Jantiene de Kroon, Remco Polman en Wilfred Ottenheijm) is een onafhankelijke producent van animatiefilms met studio's in Amsterdam en Nijmegen. De studio is gespecialiseerd in zowel traditioneel getekende bioscoopfilms als geanimeerde webapplicaties; het bekendst zijn de Dirkjan-tekenfilms.
Erik Kriek is striptekenaar en illustrator. Hij is vooral bekend van zijn reeks Gutsman (sinds 1994). Hij werkt als illustrator voor o.a. Schokkend Nieuws, VPRO Gids, Volkskrant en Vrij Nederland. Zone 5300 #92 bracht een voorpublicatie uit zijn binnenkort te verschijnen bundel met H.P. Lovecraft-bewerkingen.
Robert van Raffe (aka Dandy Raffe) debuteerde in 2005 in Zone 5300 met de strip A conversation piece over de historische dandy's Oscar Wilde en James Abbott McNeill Whistler. Hij publiceerde ook in o.a. Passionate, NRC Next, AD, The Daily Tiger en Eisner en bracht diverse boekjes uit in eigen beheer.
Frits Jonker is samen met Milan Hulsing verantwoordelijk voor de populaire rubriek Fool's Gold in Zone 5300, waarin vreemde verzamelingen, Pakistaanse psychedelica en andere curiosa de boventoon voeren. Met Dolf Hell schreef hij het boek De muzikale verleiding, over reclamesingles.
Toegang: €5 – Kaartverkoop aan de deur.
Meer info:
http://www.image-festival.com/news/img-lab-8-16-mei-in-de-unie/