De Nederlandse stripmaker Minck Oosterveer is druk bezig een internationale carrière op te bouwen. Hij tekent een deel van de serie Ruse voor Marvel. Nu mag hij voor dezelfde uitgever hun boegbeeld Spider-Man gaan tekenen.
Minck is gevraagd om een deel te tekenen van de miniserie Spider-Island: Deadly Foes. Giuseppe Camuncoli is de andere tekenaar van de reeks die vooral draait om de nieuwe Hobgoblin en The Jackal, een oude vijand van Spider-Man.
The Jackal, in het dagelijks leven professor Miles Warren, is geobsedeerd door Gwen Stacy, Peter Parkers overleden geliefde. Hij heeft haar al meerdere malen gekloond, evenals het webhoofd zelf. The Jackal is een van de schurken van Marvel die doodgewaand wordt, maar toch altijd weer zijn gezicht laat zien. Klonen zijn nu eenmaal niet te vertrouwen wat dat betreft.
De aflevering die Oosterveer gaat tekenen is geschreven door Fred Van Lente en zal vooral over The Jackal gaan.
'Het is wel een Spider-Man-verhaal maar het verhaal gaat voornamelijk over The Jackal en zijn klonen. Spider-Man komt er in een of twee plaatjes in voor, waarvan er eentje een kloon is,' laat de tekenaar telefonisch weten. In het verhaal zal The Jackal Kaine, een van de klonen van Peter Parker, weer tot leven wekken. Kaine liet kort geleden het leven in het verhaal The Grim Hunt.
Oosterveer is in zijn nopjes met het script: 'Ik vind het een leuk verhaal, het is heel duister en een beetje gruwelijk.
'Ik ga er een de cover van Amazing Spider-Man #149 in verwerken. Hierop is Spider-Man met een van zijn klonen in gevecht. In plaats van Ned Leeds in de oorspronkelijke cover zal de kloon van Gwen Stacy aan de muur hangen.'
Minck was d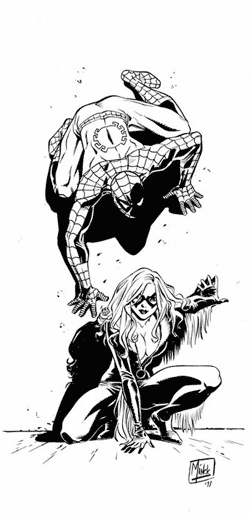 ruk bezig met de strip Ruse, geschreven door Mark Waid, toen hij een mailtje kreeg met het verzoek een one shot voor Spider-Man te maken. Uiteraard hoefde hij hier niet lang over na te denken. 'Spider-Man is het vlaggenschip van Marvel en daaraan werken vestigt je naam. Dus ik zei meteen "ja".'
Gevraagd naar welk personage van de Spider-Man cast hij het liefste zou tekenen, antwoordt Minck: 'The Black Cat! Catwoman van Batman, The Black Widow, Black Cat dat soort figuren vind ik erg aantrekkelijk om te tekenen. De wat donkere dames, ik zou niet zo snel voor een Emma Frost kiezen. Mary Jane Watson is altijd wel leuk om te tekenen, maar ik vind haar verder niet zo'n interessant figuur.'
Op Facebook publiceerde Minck een smakelijk voorstudie van Spider-Man en The Black Cat.
Mincks comic zal in augustus in de winkels liggen. Ondertussen is hij ook in gesprek over een Frans stripproject. Eerder tekende Minck al voor Boom! uitgevers de strip The Unknown, geschreven door Mark Waid. In Nederland maakte hij samen met Willem Ritstier de western Ronson Inc. voor Eppo. Voorlopig lijkt het de tekenaar, die recent nog de Stripschapprijs in ontvangst mocht nemen, voor de wind te gaan. Ik gun hem het succes van harte.