In oktober komt een director's cut uit van Nightbreed (1990), want Clive Barker die zijn eigen boek Cabal verfilmde, was niet tevreden over wat de studio van zijn film had overgelaten.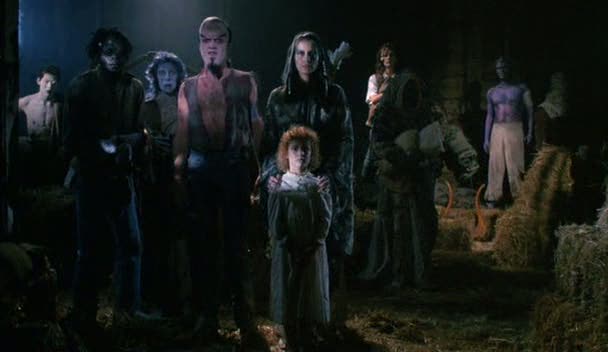 In een artikel (uit Cinefantastique, Vol 21, No 1, July 1990 van Alan Jones) laat hij zich dan ook duidelijk uit over het feit dat de filmstudio geen bal snapte van wat hij probeerde te maken:
"The lesson I've learned [making 'Nightbreed'] is that a lot of people don't want anything different. They don't want you to have a unique vision. But why make movies anybody else could have done? Well, I've paid the consequences, but I'm unrepentant. Again and again I listened to deprecating comments about low literacy levels. There was supposedly no point showing 'Nightbreed' to critics because the people who see these movies don't read reviews, in brackets, even if they can read at all! Immediately it was disqualified from serious criticism. Therefore it had to be sold to the lowest common denominator. Nobody cares for the product I, and a host of other horror directors, make. One [old] guy at Fox never saw it through because he felt it was morally reprehensible and disgusting – the two very things it's not. Their imaginations are limited and they have a very unadventurous sense of what to do. Someone at Morgan Creek said to me, 'You know, Clive, if you're not careful some people are going to like the monsters.' Talk about completely missing the point! Even the company I was making the film for couldn't comprehend what I was trying to achieve!"
Ik heb me vermaakt met deze fantasiehorror vol met vreemde creaturen. Het idee van Midian, een plek waar monsters wonen en worden geaccepteerd voor wat ze zijn, staat me zeer aan. De creaturen zien er intrigerend uit en in dit geval zijn de monsters de good guys. Danny Elfman componeerde de bombastische en zeer aanwezige soundtrack.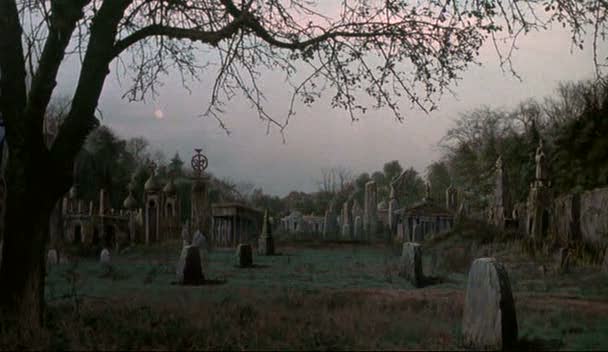 Wat je ook van Clive Barkers werk vindt, onorigineel is het niet. Hij schreef verschillende horrorboeken en regisseerde en schreef onder andere Hellraiser. (De film Candyman is ook gebaseerd op een verhaal van Barker, al vond ik die film zeer slaapverwekkend. Veel mensen op Facebook waren het wat dat betreft niet met me eens.)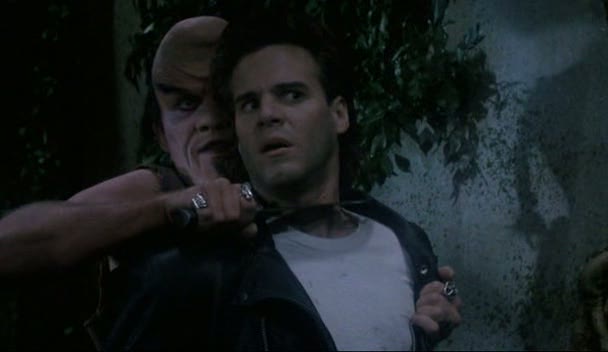 Dat de Canadese filmregisseur David Cronenberg de rol van Dr. Phillip K. Decker speelt, vind ik een leuk detail. Decker is een verknipte psychiater met moordneigingen die met een masker op zijn hoofd mensen in mootjes hakt.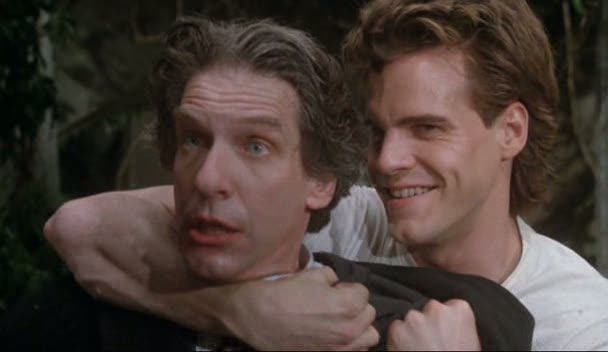 Decker vertelt zijn patiënt Aaron Boone (Craig Sheffer) dat hij een seriemoordenaar is. Boone slaat op de vlucht en vindt onderdak bij een groep monsters genaamd Nightbreed, die zich schuilhouden op een oud kerkhof. De dokter, de politie en Boone's vriendin (Anne Bobby) gaan achter Boone aan, wat tot een explosief einde leidt.
Waarom de rubriek Frames?
De verhalen die we lezen en zien maken net zo goed deel uit van onze levensloop als de gebeurtenissen die we in reallife meemaken. In de rubriek Frames verzamel ik stills uit de films die ik heb gezien om zo die herinneringen te kunnen bewaren en koesteren. Nightbreed keek ik in het kader van de weg naar Halloween.