Killing and Dying is a collection of six wonderful short stories by Californian comic book artist Adrian Tomine. Six emotional, well-crafted slices of life, though predominantly the more gloomy slices.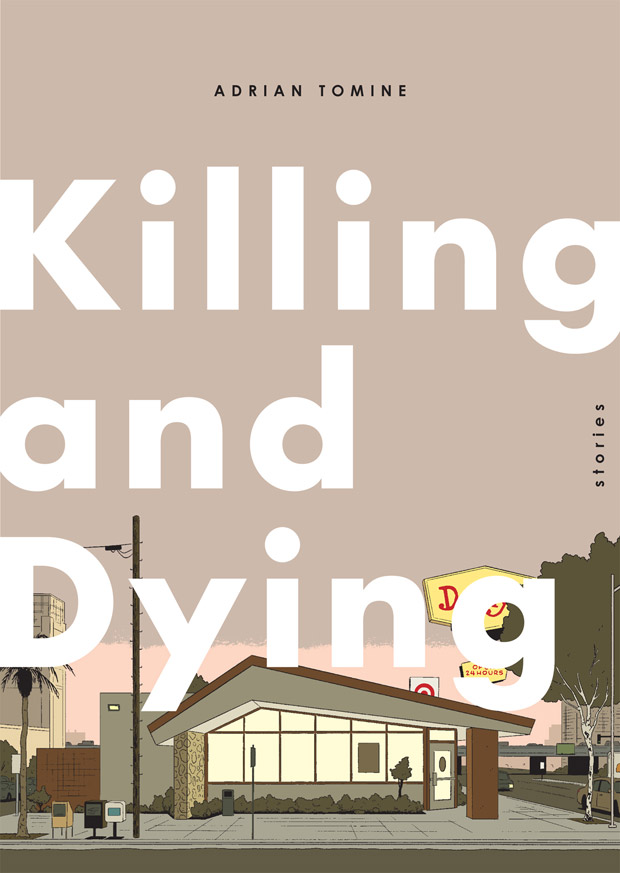 In 'A Brief History of the Art Form Known as Hortisculpture' a gardener invents a new art form: large sculptures with plants in them. He thinks it's going to be big. Too bad nobody else thinks the same way. Even though his wife tries to support her husband's dream in the end he becomes so obsessed with it, their family life suffers.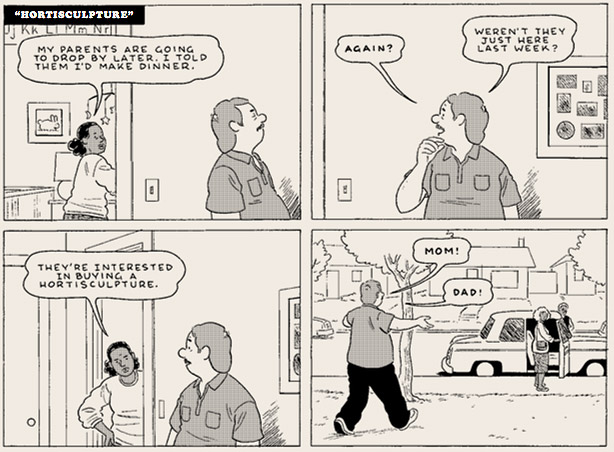 In 'Amber Sweet' a student's life takes a turn for the worse when she gets mistaken for porno star Amber Sweet, whom she resembles.
'Go Owls' deals with a relationship between a woman and a self-absorbed man with a shady past called Dennis Barry. In the beginning he seems like a nice guy who tries to help her out, but soon the dark side of his personality surfaces.
'Killing and Dying' is about how a father tries to protect his daughter from failure and embarrassment. She wants to be a stand-up comedian. To her father this is just another one of her whims while her mother is really supportive. Tomine offers a great study of the father-daughter dynamic. The father is trying his best at parenting, but isn't a very subtle communicator. The killing and dying refers to being a stand-up: you either kill the room by making the audience laugh their butts off, or you're dying inside when they don't laugh at your jokes.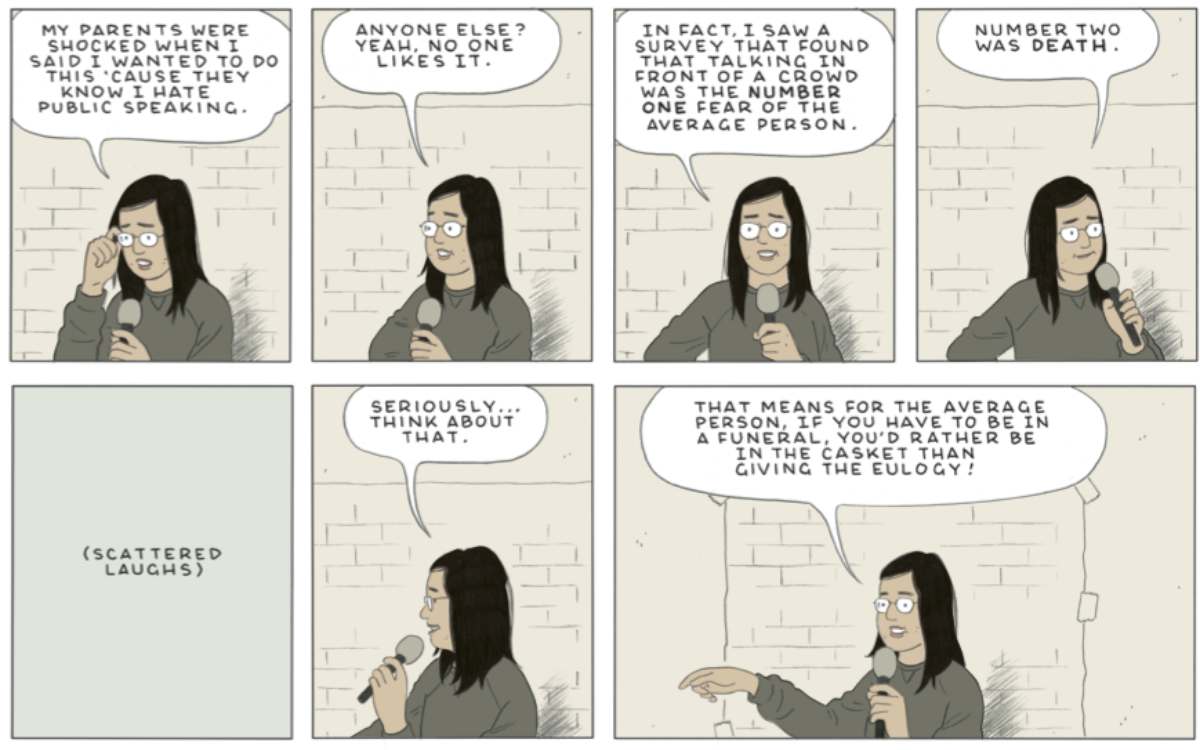 Adrian Tomine is a great cartoonist and also a wonderful writer: it's through their dialogue and their inner thoughts that his characters seem most alive. Every story is a slice of life and a character study. Tomine's characters are all tragic and flawed in some way, making them not only recognizable, but also very real. These are the people living next door. Heck, they could even be us.
Although, one wishes never to become a Dennis Barry or the main character in 'Intruders'. By chance this soldier gets the hold of the keys to an old apartment, and after the current occupant leaves for work, he goes into his former home to spend his day. All of Tomine's characters seem to have suffered some sort of loss or need to learn to let go of something whether it's to stop pursuing a dream or letting go of a memory. The tone of the stories might be a bit gloomy, but it never gets too depressing. The six vignettes fit more within the 'dark humor' category.
Tomine gives every story its own characteristics and isn't afraid of experimentation. 'A Brief History of the Art Form Known as Hortisculpture' comes in the form of a newspaper comic, with every episode ending on a funny note. 'Translated, from the Japanese,' reads like a mother's memoir, illustrated with colorful still images. In all comics Tomine uses a very clean drawing style, a bit similar to ligne claire (Clear Line). (The artwork is reminiscent of the comics of Chris Ware and Daniel Clowes, comic book artists who also deal with black humor and hapless characters.) The story 'Intruders' Tomine seems to have inked in a looser way with thicker lines. Because the panels also lack inked borders, the visualization is in tune with the subjective storytelling.

I very much enjoyed reading Killing and Dying and I'd like to heartily recommend this collection of six stories to anyone wanting to read good comics.
This review was written for and published on the wonderful blog of the American Book Center.